Complete Horse Riding Manual (Hardcover)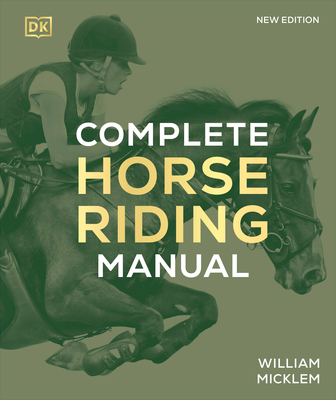 Description
---
Learn all there is to know about  horse riding, from horse care and show jumping to mastering dressage.
 
Suitable for both novice and advanced riders, and for equestrian fans of all ages, this book will guide you through every stage of the riding process from the first time in the saddle to advanced riding skills. 
 
Featuring all of the latest techniques and equipment, this comprehensive and fully updated edition covers everything  you need to know about basic horse training, dressage training, and mental and physical preparation – for both horse and rider – as well as how to find and develop your ultimate horse. 

Dive deeper into this brilliant book about horses: 

- llustrated in full color throughout, with specially commissioned photographic sequences and artworks that show every riding technique with unparalleled clarity.
- Includes detailed, updated sections on dressage, showjumping, cross country, and young horse training as well as how to find and develop your ultimate horse.
- Combines a practical approach to technique – including illustrated troubleshooting sections – with a deep understanding, and invaluable analysis, of horse behavior.
- Presents standard riding methods in a fresh and imaginative way with overlapping "action" photo sequences.
- Explains the symbiotic relationship between horse and rider that is at the heart of all successful riding.

Presented in spectacular visual detail, it is the ultimate guide  to perfecting your equestrian skills. Featuring tips from internationally renowned horse trainer William Micklem, Complete Horse Riding Manual is a truly thoroughbred guide that is a must-have for any horse lover.
About the Author
---
William Micklem is highly regarded internationally as one of the most innovative thinkers in the world of sports coaching and horse and rider training. A well-known speaker, writer, and contributor to leading equestrian journals, he is also a Fellow of the British Horse Society and Coaching Ireland Tutor. He is the inventor of the ground-breaking Micklem Bridle and a breeder of international horses, including Mandiba (Karen O'Connor) and High Kingdom (Zara Phillips). He also discovered Karen and David O'Connor's three great Olympic medalists, Biko, Custom Made, and Gilt Edge.