Harry Potter Weasley & Weasley Magical Mischief Deck and Book (Kit)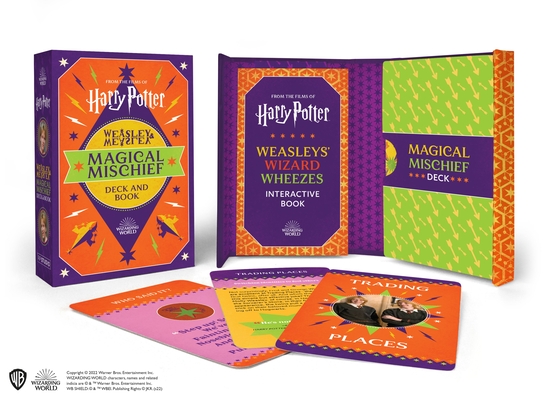 Description
---
Bring the humor, mischief, and magic of Weasleys' Wizard Wheezes Joke Shop home with this gift set, including an original card deck, guided journal, and more to delight fans of the Wizarding World.
Specifications: 40 illustrated cards are 3 x 5 inches, shrink-wrapped in an interior travel case; journal is an 88-page paperback book, 3 x 5 inches; deck and book are packaged in a keepsake magnetic closure box
One-of-a-Kind Card Deck: Includes 40 full-color printed cards filled with profiles of top-selling Wheezes (from Puking Pastilles to Fainting Fancies, Screaming Yo-yos, Pigmy Puffs, and beyond), and "Words of Weasley" for magical mischief inspiration; all feature eye-catching graphic artwork from the Weasleys' shop
Guided Journal: An accompanying book is filled with prompts for jokes, inventions, and creative ideas of all kinds, plus space for brainstorming and journaling; with full-color graphics and movie images throughout
Perfect Gift: A unique gift for fans of the Wizarding World and Harry Potter
Officially Licensed: Authentic Wizarding World collectible
A note on packaging:
 In order to help honor our planet and reduce waste, we have only shrink wrapped the interior card deck, rather than the keepsake box. Please feel confident that your product is not defective or used. When you open your deck, you will find that the actual cards inside the box are shrink wrapped for protection and to ensure first use by the buyer.
About the Author
---
Donald Lemke has penned more than 100 books featuring some of today's most popular characters, including Batman, Superman, Scooby-Doo, Harry Potter, and more. He lives in St. Paul, Minnesota.

About the Wizarding World
More than two decades ago, a young Harry Potter was whisked onto Platform 9¾ at King's Cross Station, and readers everywhere were swept along with him into a magical universe, created by J.K. Rowling.  In the years since, the seven Harry Potter bestsellers have inspired eight blockbuster movies, an award-winning stage play, and, more recently, the start of the Fantastic Beasts five-film series. People of all ages have been enthralled by these extraordinary adventures, set within an expanding universe, inspired by the vision of J.K. Rowling. 
For today's growing worldwide fan community, and for generations to come, the Wizarding World welcomes everyone to explore more of this magical universe - past, present and future. The Wizarding World also provides fans with an instant, trusted kite-mark of quality and authenticity.