Lock In: A Novel of the Near Future (The Lock In Series #1) (Mass Market)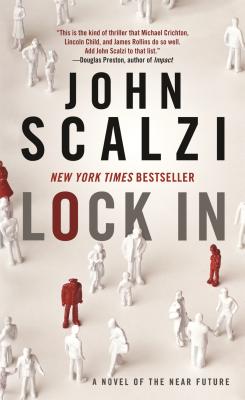 Other Books in Series
This is book number 1 in the The Lock In Series series.
Description
---
A blazingly inventive near-future thriller from the best-selling, Hugo Award-winning John Scalzi.

Not too long from today, a new, highly contagious virus makes its way across the globe. Most who get sick experience nothing worse than flu, fever and headaches. But for the unlucky one percent - and nearly five million souls in the United States alone - the disease causes "Lock In": Victims fully awake and aware, but unable to move or respond to stimulus. The disease affects young, old, rich, poor, people of every color and creed. The world changes to meet the challenge.

A quarter of a century later, in a world shaped by what's now known as "Haden's syndrome," rookie FBI agent Chris Shane is paired with veteran agent Leslie Vann. The two of them are assigned what appears to be a Haden-related murder at the Watergate Hotel, with a suspect who is an "integrator" - someone who can let the locked in borrow their bodies for a time. If the Integrator was carrying a Haden client, then naming the suspect for the murder becomes that much more complicated.

But "complicated" doesn't begin to describe it. As Shane and Vann began to unravel the threads of the murder, it becomes clear that the real mystery - and the real crime - is bigger than anyone could have imagined. The world of the locked in is changing, and with the change comes opportunities that the ambitious will seize at any cost. The investigation that began as a murder case takes Shane and Vann from the halls of corporate power to the virtual spaces of the locked in, and to the very heart of an emerging, surprising new human culture. It's nothing you could have expected.

Old Man's War Series
#1 Old Man's War
#2 The Ghost Brigades
#3 The Last Colony
#4 Zoe's Tale
#5 The Human Division
#6 The End of All Things
Short fiction: "After the Coup"

Other Tor Books
The Android's Dream
Agent to the Stars
Your Hate Mail Will Be Graded
Fuzzy Nation
Redshirts
Lock In
The Collapsing Empire (forthcoming)
About the Author
---
JOHN SCALZI is one of the most popular SF authors of his generation. His debut Old Man's War won him the John W. Campbell Award for Best New Writer. His New York Times bestsellers include The Last Colony, Fuzzy Nation,and Redshirts (which won the 2013 Hugo Award for Best Novel), and 2020's The Last Emperox. Material from his blog, Whatever, has also earned him two other Hugo Awards. Scalzi also serves as critic-at-large for the Los Angeles Times. He lives in Ohio with his wife and daughter.
Praise For…
---
Praise for Lock In

"This is the kind of thriller that Michael Crichton, Lincoln Child, and James Rollins do so well. Add John Scalzi to that list." —Douglas Preston, #1 NYT bestselling author of The Kraken Project and Impact

"As much as Scalzi has the scientific creativity of a Michael Crichton, he also has the procedural chops of a Stephen J. Canell to craft a whodunit with buddy-cop charm and suspects aplenty—most of them in someone else's body." —USA Today

"Satisfying." —NPR

"Scalzi takes his work to an entirely new level." —Cory Doctorow

"A smart, thoughtful near-future thriller…. This powerful novel will intrigue and entertain both fans and newcomers." —Publishers Weekly, starred review

"John Scalzi may be the most entertaining writer in SF today." —Toronto Star

Praise for Head On

"Particularly relevant....A fun, breezy thriller, one that showcases a world that carries with it some extremely astute commentary on some of the real problems that we face in our own. " —The Verge

"Head On doesn't care if you've read Lock In or not, but it does care if you enjoy a mystery wrapped up inside a science fiction novel....This might even be one of the best introductions to Scalzi out there." —Culturess

"[Scalzi's] prose flows like a river, smoothly carrying us through the story; his characters are beautifully crafted; and his future world is impeccably designed, at the same time wildly imaginative and wholly plausible." —Booklist, starred review

"This taut mystery, filled with memorable characters in a well-constructed world, will keep readers on the edges of their seats." —Publishers Weekly, starred review

"Readers will definitely showup for the witty banter and smartass takedowns….Very clever, wonderfully satisfying fun." —Kirkus