Honey Girl (Paperback)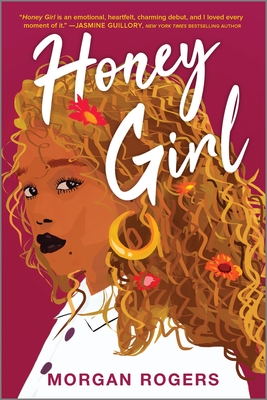 Staff Reviews
---
Ryan's February 2021 pick
This will be the most beautiful love story you read this year.
Usually, a spontaneous wedding to a stranger after a night of celebratory drinking in Vegas is an event tinged with embarrassment and regret. Especially when one of the participants of said marriage is gone the next morning. But Grace Porter doesn't regret marrying the beautiful girl who tasted like champagne bubbles and made her laugh and dance all night long. Soon, Grace Porter, with her brand new PhD in Astronomy, whose life is not going according to plan, who is being shut out of her dream career because her dark skin and femininity don't fit "the culture" of the scientific realm of Astronomy, whose Colonel father demands nothing less than perfection, is having a mental break down and flees her life in Portland to hide away in New York City with her new wife, Yuki Yamamoto, a storyteller who at times seems more myth than reality.
This story curves and twirls and spirals along a golden, sparkly path of whirlwind romance and great expectations and finding one's true self, and making mistakes and accepting imperfection and learning to change plans and go with the flow.
Honey Girl is beautiful and lovely and you will laugh and you will cry and you will read passages aloud because they are as delicious as the first sticky sweet bite of a ripe orange straight from the tree. This book will transport you into the stars where you will dance among the constellations and marvel at the raw beauty of it all.
As Grace Porter fell in love with Yuki Yamamoto, I fell in love with Honey Girl.
— From
Ryan Elizabeth Clark
Description
---
Named Most Anticipated of 2021 by Oprah Magazine * Marie Claire * Ms. Magazine * E * Parade Magazine * Buzzfeed * Cosmo * The Rumpus * GoodReads * Autostraddle * Brit & Co * Refinery29 * Betches * BookRiot and others

A LibraryReads Pick

"HONEY GIRL is an emotional, heartfelt, charming debut, and I loved every moment of it."
-- Jasmine Guillory, New York Times bestselling author of The Proposal

When becoming an adult means learning to love yourself first.

With her newly completed PhD in astronomy in hand, twenty-eight-year-old Grace Porter goes on a girls' trip to Vegas to celebrate. She's a straight A, work-through-the-summer certified high achiever. She is not the kind of person who goes to Vegas and gets drunkenly married to a woman whose name she doesn't know...until she does exactly that.

This one moment of departure from her stern ex-military father's plans for her life has Grace wondering why she doesn't feel more fulfilled from completing her degree. Staggering under the weight of her parent's expectations, a struggling job market and feelings of burnout, Grace flees her home in Portland for a summer in New York with the wife she barely knows.

In New York, she's able to ignore all the constant questions about her future plans and falls hard for her creative and beautiful wife, Yuki Yamamoto. But when reality comes crashing in, Grace must face what she's been running from all along--the fears that make us human, the family scars that need to heal and the longing for connection, especially when navigating the messiness of adulthood.