Mandarin Chinese Characters Fast Finder: Find the Character You Need in a Single Step! (Paperback)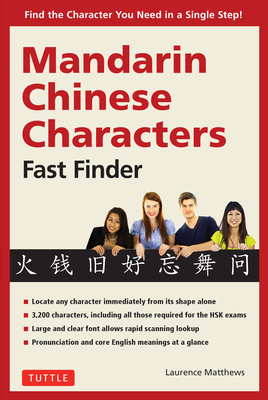 Description
---
Ever wished for a resource to look up Chinese characters from their shape alone?
Mandarin Chinese Characters Fast Finder
is a study aid that lets you look up Chinese characters quickly and intuitively from their appearance alone, without knowing their pronunciation, radical or stroke count. This reference book has been designed for dedicated learners of Chinese, as well as general readers with interest in the written Chinese language.
Mandarin Chinese Characters Fast Finder features:
A thumb-index allowing rapid access to all of the characters by shape rather than etymological radical
Clear and easy-to-read layout to facilitate speedy scanning
Covers 3,200 characters, including those prescribed for all levels of the HSK Proficiency test
Comprehensive information for each character, including: traditional forms, pronunciation, core English meaning, radical, stroke count, HSK grade
About the Author
---
Laurence Matthews has worked as a university lecturer, as a research manager in an industrial design department, and in Japan as a business consultant. He is the author of Japanese Kanji Fast Finder and coauthor with Alison Matthews of Learning Chinese Characters. In his linguistic work, he makes extensive use of his skills in design and the structured presentation of information.