Getting the Love You Want: A Guide for Couples (Paperback)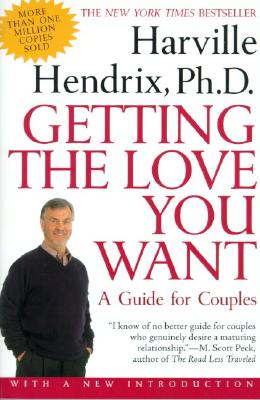 $15.00
OUT OF PRINT: Email or call for price
Description
---
The bestselling guide to transforming an intimate relationship into a lasting source of love and companionship., with a new foreword and chapter from the author

In Getting the Love You Want, Dr. Harville Hendrix presents the relationship skills that have already helped hundreds of thousands of couples to replace confrontation and criticism with a healing process of mutual growth and support. This extraordinary practical guide describes the revolutionary technique of Imago Relationship Therapy, which combines a number of disciplines--including the behavioral sciences, depth psychology, cognitive therapy, and Gestalt therapy, among others-- to create a program to resolve conflict and renew communication and passion.

Getting the Love You Want describes the three stages of intimate relationships, provides illustrative case studies and gives helpful recommendations to overcome the obstacles in those stages to create a stronger bond between couples. First, he chronicles the stages of most relationships-attraction, romantic love and the power struggle-and suggests ways for partners to identify the conflicts associated with each of them. Then, he explores methods for achieving a "Conscious Marriage," where the early phases of romance are rekindled and confrontation is slowly replaced by growth and support. Finally, Dr. Hendrix incorporates these ideas into a unique therapeutic course, offering a series of proven exercises that lead to insight, resolution and revitalization. Step by step, he describes how to communicate with greater accuracy and sensitivity, how to let go of self-defeating behaviors, and how to focus energy on meeting each partners' needs.

With Getting the Love You Want couples in any stage of a relationship can resolve their conflicts and achieve mutual emotional satisfaction.
Praise For…
---
"Getting the Love You Want is a remarkable book--the most incisive and persuasive I have ever read on the knotty problems of marriage relationships."--Ann Roberts, Former President, Rockefeller Family Fund

"Harville Hendrix offers the best program I've seen for using the love/hate energy in marriage to help a couple heal one another and to become whole together."--T. George Harris, Editor-in-Chief, American Health magazine

"This book will help any couple find the love they want hidden under all the concealing confusion of a close and intimate relationship. I have seen these principles in application and they work!"--James A. Hall, M.D.