Mother to Mother (Paperback)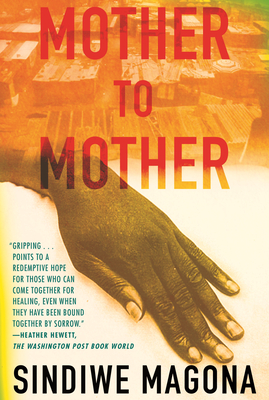 Description
---
A searing novel, told in letter form, that explores the South African legacy of apartheid through the lens of a woman whose Black son has just murdered a white woman

Mother to Mother is a novel with depth, at once an emotional plea for compassion and understanding, and a sharp look at the impacts of colonialism and apartheid on South African families. Inspired by the true story of Fulbright scholar Amy Biehl's murder, the book takes the form of a letter to the victim's mother. The murderer's mother, Mandisa, speaks of a life marked by oppression and injustice.

Through her writing, Mandisa reveals a colonized society that not only allowed but perpetuated violence against women and impoverished Black South Africans under the reign of apartheid. This book is not an apology for the murder but rather something more. It seeks to connect, through empathy and storytelling, one pained mother with another who is grief-stricken and in mourning.

A beautifully written exploration of the society that bred such violence, Mother to Mother will resonate with readers interested in understanding and ending racial injustice, as well as the lasting colonial foundations of oppression.
About the Author
---
Sindiwe Magona is an award-winning author, motivational speaker, Xhosa teacher and translator. She has written many acclaimed children's books, plays, books of short stories, essays, memoirs, and novels. Born in South Africa, she lived for many years in Gulguletu, where Amy Biehl was murdered. She graduated from University of South Africa before attending Columbia University to earn a master's degree. Magona worked for the UN as part of an anti-apartheid working group for twenty-five years. Since her retirement, she has moved back to Cape Town, where she is currently Writer-in-Residence at the University of the Western Cape.
Praise For…
---
"Haunting . . . a most unusual novel, in which a black South African mother dares to explain her son's violence to the grieving mother of the white girl he murdered." --Jordana Hart, Ms.

"Unforgettable." --Hazel Rochman, Chicago Tribune

"Mother to Mother is a stunning novel; Magona has succeeded in her grand ambition to write a story of healing and confrontation. She has written a graceful, terrible story; it is an eloquent indictment of Apartheid and a passionate lament over the loss of Amy Biehl's life." --Angela Salas, The Boston Book Review

"As a lament for the terrible legacy of apartheid, the novel is surely a tour de force. As a story of individuals attempting to deal with choices made and perhaps regretted, it is a moving work of fiction." --Lee Milazzo, Dallas Morning News

"Gripping. . . . Points to a redemptive hope for those who can come together for healing, even when they have been bound together by sorrow. The writer's own courage in writing this novel is evidence of an increasingly powerful literary voice for [her] nation." --Heather Hewett, The Washington Post Book World