In Dreams Begin Responsibilities and Other Stories (Paperback)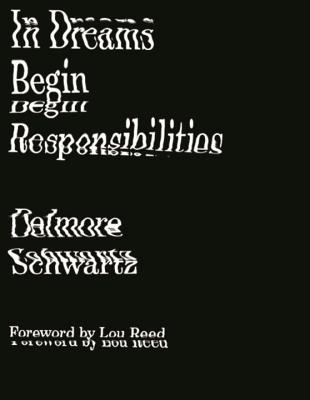 Description
---
A new edition of the definitive book on the depression-era immigrant experience in New York City.
Now with an exciting new preface by Lou Reed (Delmore Schwartz's student at Syracuse),
In Dreams Begin Responsibilities
collects eight of Schwartz's finest delineations of New York's intellectuals in the 1930s and 1940s. As no other writer can, Schwartz captures the speech, the generational conflicts, the mocking self-analysis of educated, ambitious, Depression-stymied young people at odds with their immigrant parents. This is the unique American dilemma Irving Howe described as "that interesting point where intellectual children of immigrant Jews are finding their way into the larger world while casting uneasy, rueful glances over their backs." Afterwords by James Atlas and Irving Howe place the stories in their historical and cultural setting.
About the Author
---
Delmore Schwartz (1913-1966) was born and raised in Brooklyn. One of America's greatest poets and short-story writers, Schwartz contributed "In Dreams Begin Responsibilities" to the first issue of Partisan Review in 1937. Schwartz taught at Syracuse, Princeton, and Kenyon College, and received the Bollingen Prize in 1959. After a difficult period of alchoholism and depression, he died of a heart attack in 1966.

James Atlas is the president of Atlas & Co. and founder of the Penguin Lives series. His numerous books include Bellow: A Biography, Delmore Schwartz: The Life of an American Poet and the memoir My Life in the Middle Ages. He lives in New York City.

Irving Howe was a literary and social critic, as well as a prominent member in the Democratic Socialists of America party.

Lou Reed's (b. 1942) most recent releases include Romanticism, a collection of photographs, and Lou Reed's Berlin, the Julian Schnabel-filmed record of a multi-media performance of Reed's iconic 1973 album. The guitarist and principal songwriter for The Velvet Underground, he has enjoyed a long and successful solo career. His book of photographs, New York, was published in 2008.
Praise For…
---
The greatest man I ever met… [His] titles were more than enough to raise the muse of fire on my neck. 
— Lou Reed

Delmore Schwartz catapults past the fickleness of mere reputation(that posture and position that Lionel Trilling defined as characterizing a 'figure') into something close to legend.
— Cynthia Ozick

Nostalgic odes to the city are everywhere, but the best thing ever written on the subject is In Dreams Begin Responsibilities.

— The Village Voice

'In Dreams Begin Responsibilities' is as good as a story can be, I'd say after reading it again for the fifth or sixth time, comparable with Kafka, Babel, or Through the Looking Glass.

— Dwight MacDonald