The Feather Thief: Beauty, Obsession, and the Natural History Heist of the Century (Paperback)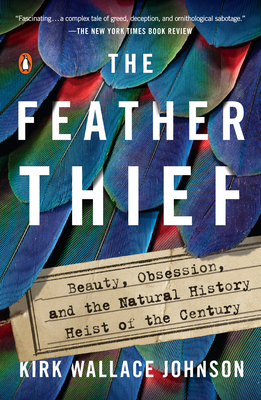 Staff Reviews
---
Zephyr's March 2022 pick
What happens when you mix true-crime, natural history, conservation, and dash of biography? Then you back it together with a six part NPR special that peaks your interest and fascination with the natural world? Well I think you will get something like the Feather Thief.
Feather Thief takes a look at humanity's darkest desires and obsession to own that which is rare and considered unobtainable (by any means necessary). It pulls back the curtain on aspects of human nature and ourselves that I think we all know far too well, but wish to forget or silence.
Kirk Johnson, show his own obsessions and burgeoning hunger to seek the truth in a hope to mend what was once broken not only for the victims but also his own personal struggles. Fearlessly seeking answers for the heist of one of natural history's most forgotten evolution scientists Alfred Russel Wallace (this man could never catch a break).
— From
Zephyr
May 2018 Indie Next List
---
"A fascinating true crime book, The Feather Thief recounts the theft of more than 200 bird skins from a museum in England. Along the way, Johnson also covers Darwin contemporary Alfred Russel Wallace's travels to acquire birds of paradise, the theory of evolution, and the decimation of bird species in the name of fashion. It is a book about obsession, from the fly-tying community's hunt for specific bird species to Johnson's own need for justice and closure after the case is resolved. This is a gripping, multifaceted book about our need to possess beauty in the name of historical authenticity."
— Anton Bogomazov, Politics & Prose Books and Coffee Shop, Washington, DC
Description
---
As heard on NPR's This American Life

"Absorbing . . . Though it's non-fiction, The Feather Thief contains many of the elements of a classic thriller." —Maureen Corrigan, NPR's Fresh Air

"One of the most peculiar and memorable true-crime books ever." —Christian Science Monitor

From the author of The Fishermen and the Dragon, a rollicking true-crime adventure and a captivating journey into an underground world of fanatical fly-tiers and plume peddlers, for readers of The Stranger in the Woods, The Lost City of Z, and The Orchid Thief.

On a cool June evening in 2009, after performing a concert at London's Royal Academy of Music, twenty-year-old American flautist Edwin Rist boarded a train for a suburban outpost of the British Museum of Natural History. Home to one of the largest ornithological collections in the world, the Tring museum was full of rare bird specimens whose gorgeous feathers were worth staggering amounts of money to the men who shared Edwin's obsession: the Victorian art of salmon fly-tying. Once inside the museum, the champion fly-tier grabbed hundreds of bird skins—some collected 150 years earlier by a contemporary of Darwin's, Alfred Russel Wallace, who'd risked everything to gather them—and escaped into the darkness.

Two years later, Kirk Wallace Johnson was waist high in a river in northern New Mexico when his fly-fishing guide told him about the heist. He was soon consumed by the strange case of the feather thief. What would possess a person to steal dead birds? Had Edwin paid the price for his crime? What became of the missing skins? In his search for answers, Johnson was catapulted into a years-long, worldwide investigation. The gripping story of a bizarre and shocking crime, and one man's relentless pursuit of justice, The Feather Thief is also a fascinating exploration of obsession, and man's destructive instinct to harvest the beauty of nature.
About the Author
---
Kirk W. Johnson is the author of The Fishermen and the Dragon and To Be a Friend Is Fatal, and the founder of the List Project to Resettle Iraqi Allies, which he started after serving with USAID in Fallujah. His writing has appeared in The New Yorker and The New York Times, and on This American Life, among others.
Praise For…
---
"Fascinating . . . a complex tale of greed, deception, and ornithological sabotage."
—
The New York Times Book Review
"Fascinating from the first page to the last—you won't be able to put it down."
—
Southern Living
"A fascinating book . . . the kind of intelligent reported account that alerts us to a threat and that, one hopes, will never itself be endangered."
—
The Wall Street Journal
"Thrilling . . . This book is 
The Orchid Thief
 for the fly-fishing and birding set."
—
Paris Review
, "Staff Picks"
"Johnson, like Susan Orlean before him, is a magnifier: he sees grand themes—naïveté, jealousy, depression, the entitlement of man . . . That vision makes a book about things like Victorian salmon fly tiers feel heavy as gold."
—The New Yorker
, "What We're Reading This Summer"
"[A] true-crime caper recounted with relish." 
—
O, The Oprah Magazine
, "10 Titles to Pick Up Now"
"Vivid and arresting . . . Johnson [is] a wonderfully assured writer."
—
The Times
(London)
"One of the most peculiar and memorable true-crime books ever. . . . Johnson is an intrepid journalist . . . [with] a fine knack for uncovering details that reveal, captivate, and disturb."
—
Christian Science Monitor
"An uncommon book . . .  [that] informs and enlightens. . . A heist story that manages to underline the enduring and continuing importance of natural history collections and their incredible value to science. We need more books like this one."
—Science

"The best compliment I can give a nonfiction writer is that they make me care deeply about an obscure topic I would otherwise never have been interested in. That's the case with Kirk Wallace Johnson's The Feather Thief."
—Eva Holland, Outside, "The Best Summer Books"

"A fascinating account of a bizarre crime . . . The Feather Thief is one of the more peculiar and gripping crime stories in recent memory."
—LitHub CrimeReads, "The Essential True Crime Books of Spring 2018"

"Johnson succeeds in conveying the gravity of this natural-history 'heist of the century,' and one of
The Feather Thief
's greatest strengths is the excitement, horror, and amazement it evokes. It's nonfiction that reads like fiction, with plenty of surprising moments."
—
Outside
"A riveting read."
—
Nature
"A literary police sketch—part natural history yarn, part detective story, part the stuff of tragedy." 

—Smithsonian


"Within pages I was hooked. This is a weird and wonderful book . . . Johnson is a master of pacing and suspense . . . It's a tribute to [his] storytelling gifts that when I turned the last page I felt bereft." —Maggie Fergusson, 
The Spectator 
(London)
"A riveting story about mankind's undeniable desire to own nature's beauty and a spellbinding examination of obsession, greed, and justice . . .[told] in engrossing detail. . . . A gripping page-turner." 
—
Bustle
"Enthralling."
—
HelloGiggles
"Richly informative, with handy illustrations, endlessly fascinating and crackingly entertaining,
 The Feather Thief
is the kind of true-crime narrative that gives Erik Larson's much-lauded
 The Devil in the White City
a run for the money."
—
Shelf Awareness
"Highly entertaining . . . journalism at its best . . . If you know nothing about fly-fishing or tying, it doesn't matter, as long as you like a well-written story."
—Karen Gallagher,
The Baltimore Sun
's 
Roughly Speaking 
podcast
"Reads like a whodunit . . . I could not put it down."
—Tom Rosenbauer, 
The Orvis Fly Fishing Guide Podcast
"This is the type of book I absolutely love – one that takes a seemingly obscure topic and shines a brilliant and bizarre and endlessly fascinating light upon it. The crime itself is riveting, but Kirk Wallace Johnson's portrayal of the crazy world of feather fanatics makes this an unforgettable read."
—Michael Finkel, author of 
The Stranger in the Woods
"Captivating...Everything the author touches in this thoroughly engaging true-crime tale turns to storytelling gold. . . . Johnson's flair for telling an engrossing story is, like the beautiful birds he describes, exquisite. . . . A superb tale about obsession, nature, and man's 'unrelenting desire to lay claim to its beauty, whatever the cost.'"
—Kirkus Reviews,
Starred Review
"[An] enthralling account of a truly bizarre crime. . . . Johnson goes deep into the exotic bird and feather trade and concludes that though obsession and greed know no bounds, they certainly make for a fascinating tale. The result is a page-turner that will likely appeal to science, history, and true crime readers."
—
Publishers Weekly, 
Starred Review
"A remarkably compelling story of obsession and history."
—
Booklist,
Starred Review
"You'll never look at a feather the same way again after reading this riveting detective story . . . [
The Feather Thief
] brilliantly weaves together Alfred Russel Wallace, the surprisingly shadowy history of fly fishing, conservation and the plumage of the most beautiful birds on earth." 
—
The Bookseller
(UK)
"A true-crime tale that weaves seemingly unrelated threads—a museum break-in; the development of evolutionary theory; a case of post-Iraq PTSD; endangered birds; and (above all) the murky underworld of fly-tying obsessives—into a spellbinding narrative tapestry."
—Mark Adams, author of
Turn Right at Machu Picchu
"
A
 captivating tale of an unlikely thief and his even more unlikely crime, and a meditation on obsession, greed, and the sheer fascination in something as seemingly simple as a feather."
—Paul Collins, author of 
The Murder of the Century

"A stirring examination of the devastating effects of human greed on endangered birds, a powerful argument for protecting our environment—and, above all, a captivating crime story."
—Peter Wohlleben, author of The Hidden Life of Trees
"This gem of a book, about a heist of archival birds, is marvelous, moving, and transcendent. I can't stop thinking about it." 
—Dean King, author of Skeletons on the Zahara and The Feud
"This extraordinary book
exposes an international underground that traffics in rare and precious natural resources, yet was previously unknown to all but a few. A page-turning read you won't soon forget,
The Feather Thief
tells us as much about our cultural priorities as it does about the crimes themselves. There's never been anything like it." 
—Elizabeth Marshall Thomas, author of
The
Hidden Life of Dogs