The Wiley Blackwell Companion to Syntax (Wiley Blackwell Companions to Linguistics #1) (Hardcover)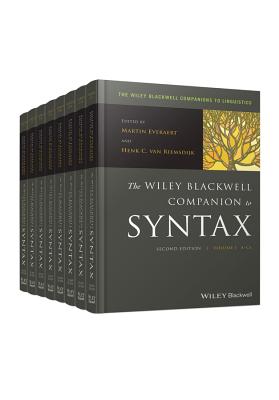 $1,658.75
OUT OF PRINT: Email or call for price
Description
---
Ein wertvolles Referenzwerk f 1/4r Studenten und Forscher der theoretischen Linguistik. Die 2. Auflage von The Wiley Blackwell Companion to Syntax wurde aktualisiert, beinhaltet nun die Erkenntnisse der letzten zehn Jahre auf dem Gebiet der Syntaxforschung und wurde um eine Vielzahl wichtiger Fallstudien zur Syntax einer Vielzahl von Sprachen erweitert.
- œberarbeitete und erweiterte Ausgabe dieses wertvollen Referenzwerks f 1/4r Studenten und Forscher auf dem Gebiet der Linguistik; jetzt mit den Erkenntnissen aus zehn Jahren Syntaxforschung.
- Umfasst 1/4ber 120 Kapitel, in denen wichtige empirische Studien zur Syntax aus mehr als 50 Jahren erl utert, analysiert und in einen Kontext gesetzt werden.
- Zeigt die Entwicklung und Geschichtsschreibung der Syntaxforschung und deckt dabei die wichtigsten Unterbereiche ab.
- Mit renommierten Beitr gen internationaler Linguisten. Herausgeber sind zwei hochgesch tzte Experten des Fachgebiets.
- Eine wichtige und einzigartige Sammlung von Forschungserkenntnissen, als Online-Version und achtb ndige Printausgabe erh ltlich.

About the Author
---
Martin Everaert is Professor of Linguistics at Utrecht University, The Netherlands. He works primarily on the syntax-semantics interface (anaphora: reflexives, reciprocals) and the lexicon-syntax interface (idioms/collocations, and argument structure). His other areas of interest are language evolution, biolinguistics, and the history of linguistics. He is on the editorial boards of several journals, including Linguistic Inquiry. His books include Concepts, Syntax and Their Interfaces - The Theta System. (2016) and Birdsong, Speech and Language: Exploring the Evolution of Mind and Brain (2013). He is co-editor of the Wiley Blackwell Companions to Linguistics series and member of the editorial advisory board of De Gruyter Open. Henk van Riemsdijk was, until recently, Professor of Linguistics and head of the Models of Grammar Group at Tilburg University, The Netherlands. He is now emeritus professor and a freelance linguist operating from his home in Arezzo, Italy. He is the co-founder of GLOW, the major professional organization of generative linguists in Europe. He was the co-editor of the Journal of Comparative Germanic Linguistics from 2001 through 2013 and of the Mouton de Gruyter book series Studies in Generative Grammar from 1978 through 2013. He is co-editor of the Wiley Blackwell Companions to Linguistics series and the Comprehensive Grammar Resources series at Amsterdam University Press. He has written and edited 30 books, published well over 100 major articles, and directed 30 PhD dissertations.