Fangirl: A Novel (Paperback)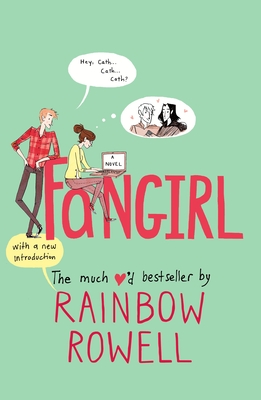 Staff Reviews
---
Ryan's September 2013 pick
Fangirl - Rainbow Rowell
Rainbow Rowell is one of my favorite authors, and her newest novel Fangirl is rivaling Eleanor & Park for my affections!
Fangirl is a cool, modern coming-of-age tale. Cath, cripplingly introverted, is famous. Well, sort of. Everyone in the Simon Snow fandom who has ever delved into the world of "SnowBaz" Fanfiction knows her username. Magicath, as she's known online, writes Fanfiction (stories written by fans about their favorite characters) about Simon Snow and his vampire enemy Basil (Baz), and her stories are so beloved by the fans, that most confess they wish her latest, Carry On, Simon was the real thing.

Of course, no one but her twin sister and her ex boyfriend know that Cath is the one writing the infamous Fanfiction, and now she's a freshman in college struggling to survive the new environment, all but abandoned by her extraverted twin, stuck with a roommate she has nothing in common with (and is a little freaked out by), and she's afraid to eat in the dining hall by herself. Living off of protein bars and Simon Snow, Cath shuts herself in her room and writes furiously, deterined to finish Carry On before the final volume of Simon Snow is released. Also, there's this boy she kinda likes...
This novel is so awesome. I loved this book. It was refreshing to read about Fanfiction (especially in a way that celebrates it!), introverts in a college setting (those bits felt eerily familiar), and passion (obsession?) over a book series (that's not entirely unlike our own beloved Harry Potter). Please, please check out this book. I think you'll love it. Rainbow, as she's proven before, is able to totally capture the essence of the teenage years. There were several times when I laughed at something Cath did because it brought back vivid memories of myself doing the exact same thing.

You know what's great about Fangirl? The characters develop. they go through realistic journeys. They have good days and bad days, and they feel real. I couldn't get enough of this book, and I strongly urge you to pick it up, if only so I'll have someone else to fangirl with other than Rainbow herself.

Excerpt (pgs 50-51):
"You don't owe them anything," Wren would say, crawling onto Cath's bed at three in the morning and pulling Cath's laptop away. "Go to sleep."
"I will. I'm just...I want to finish this scene. I think Baz is finally going to tell Simon he loves him."
"He'll still love him tomorrow."
"It's a big chapter."
"It's always a big chapter."
"It's different this time." Cath had been saying this for the last year. "It's the end."
Wren was right: Cath had written this story, Baz and Simon in love, dozens of times before. She'd written this scene, this line -- "Snow...Simon, I love you"--fifty different ways.
But Carry On was different.
It was the longest fic she'd written so far; it was already longer than any of Gemma T. Leslie's books, and Cath was only two-thirds of the way through.
Carry On was written as if it were the eighth Simon Snow book, as if it were Cath's job to wrap up all the loose ends, to make sure that Simon ascended to Mage, to redeem Baz (something GTL would never do), to make both boys forget about Agatha...To write all the good-bye scenes and graduation scenes and last-minute revelations...And to stage the final battle between Simon and the Insidious Humdrum.
Everyone in fandom was writing eighth-year fics right now. Everyone wanted to take a crack at the big ending before the last Simon Snow book was released in May.
But for thousands of people, Carry On was already it.
— From
Ryan
Description
---
With a New Introduction!

In Rainbow Rowell's Fangirl, Cath is a Simon Snow fan. Okay, the whole world is a Simon Snow fan, but for Cath, being a fan is her life—and she's really good at it. She and her twin sister, Wren, ensconced themselves in the Simon Snow series when they were just kids; it's what got them through their mother leaving.

Reading. Rereading. Hanging out in Simon Snow forums, writing Simon Snow fan fiction, dressing up like the characters for every movie premiere.

Cath's sister has mostly grown away from fandom, but Cath can't let go. She doesn't want to.
Now that they're going to college, Wren has told Cath she doesn't want to be roommates. Cath is on her own, completely outside of her comfort zone. She's got a surly roommate with a charming, always-around boyfriend, a fiction-writing professor who thinks fan fiction is the end of the civilized world, a handsome classmate who only wants to talk about words . . . And she can't stop worrying about her dad, who's loving and fragile and has never really been alone.

For Cath, the question is: Can she do this? Can she make it without Wren holding her hand? Is she ready to start living her own life? And does she even want to move on if it means leaving Simon Snow behind?

A New York Times Book Review Notable Children's Book of 2013
A New York Times Best Seller!
About the Author
---
RAINBOW ROWELL lives in Omaha, Nebraska, with her family. She's the author of Eleanor & Park, Fangirl, Attachments, Landline, the graphic novel Pumpkinheads (illustrated by Faith Erin Hicks), and the Simon Snow trilogy.
Praise For…
---
"Absolutely captivating." —Kirkus Reviews (starred review)

"A funny and tender coming-of-age story that's also the story of a writer finding her voice...touching and utterly real." —Publishers Weekly (starred review)

"The magic here is cast not with wands but with Rowell's incredible ability to build complex, vivid, troubling and triumphant relationships...Fans of Eleanor & Park and other bookish, nerdy types will thrill at finding such a fantastic and lasting depiction of one of their own." —Booklist (starred review)

"A charming coming-of-age novel...filled with complex subjects (such as divorce, abandonment, and mental illness) handled in a realistic manner, and the writing effortlessly and seamlessly weaves these threads together." —School Library Journal (starred review)

"Eleanor & Park reminded me not just what it's like to be young and in love with a girl, but also what it's like to be young and in love with a book." —John Green, The New York Times Book Review on Eleanor & Park

"This sexy, smart, tender romance thrums with punk rock and true love. Teen readers--not to mention their Gen X parents--will swoon for Eleanor & Park." —Gayle Forman, New York Times bestselling author of If I Stay and Where She Went on Eleanor & Park

"A breathless, achingly good read about love and outsiders." —Stephanie Perkins, author of Anna and the French Kiss and Lola and the Boy Next Door on Eleanor & Park

"Sweet, gritty and affecting...an unforgettable story about two misfits in love." —Courtney Summers, author of This is Not a Test and Cracked Up To Be on Eleanor & Park

"Rowell shows us the beauty in the broken." —Stewart Lewis, author of You Have Seven Messages on Eleanor & Park