Your Table Is Ready: Tales of a New York City Maître D' (Hardcover)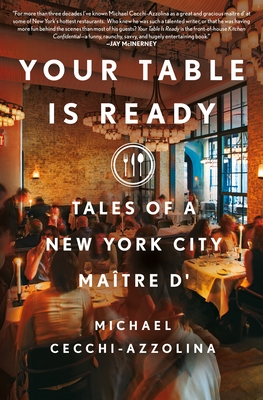 Staff Reviews
---
Jim's December 2022 pick (1 of 2)
Cecchi (pronounced "checky") is a natural storyteller. Some of the tales he spins here are so terrifying that even Stephen King at his most gruesome would pale by comparison. Others are edge-of-your-seat nail-biters. What is the milieu for all of these yarns? High end restaurants and the life of a maître d'.
Cecchi has seen it all: sex and drugs and rock-and-roll, both on and off the clock. He writes of restaurants that most people could not possibly afford to frequent regularly, if at all, and the clientele of such establishments at their finest and their worst. In the middle of observations about patrons slipping hundred dollar bills into his palm to secure a seat on a sold-out night and the familial treatment of the local regulars, I had an urge to be one of them. To go. To see. To taste. Then it hit me - a night of fine dining is like an evening at the theater. It may cost a bit more, but the histrionics are the same. The author gives the reader a front row seat.
Your Table Is Waiting is a fun book and definitely worth the price of admission. Secure your reservation and get a copy today.

— From
Jim
Description
---
A front-of-the-house Kitchen Confidential from a career maître d'hotel who manned the front of the room in New York City's hottest and most in-demand restaurants.

From the glamorous to the entitled, from royalty to the financially ruined, everyone who wanted to be seen—or just to gawk—at the hottest restaurants in New York City came to places Michael Cecchi-Azzolina helped run. His phone number was passed around among those who wanted to curry favor, during the decades when restaurants replaced clubs and theater as, well, theater in the most visible, vibrant city in the world.

Besides dropping us back into a vanished time, Your Table Is Ready takes us places we'd never be able to get into on our own: Raoul's in Soho with its louche club vibe; Buzzy O'Keefe's casually elegant River Café (the only outer-borough establishment desirable enough to be included in this roster), from Keith McNally's Minetta Tavern to Nolita's Le Coucou, possibly the most beautiful room in New York City in 2018, with its French Country Auberge-meets-winery look and the most exquisite and enormous stands of flowers, changed every three days.

From his early career serving theater stars like Tennessee Williams and Dustin Hoffman at La Rousse right through to the last pre-pandemic-shutdown full houses at Le Coucou, Cecchi-Azzolina has seen it all. In Your Table Is Ready, he breaks down how restaurants really run (and don't), and how the economics work for owners and overworked staff alike. The professionals who gravitate to the business are a special, tougher breed, practiced in dealing with the demanding patrons and with each other, in a very distinctive ecosystem that's somewhere between a George Orwell "down and out in…." dungeon and a sleek showman's smoke-and-mirrors palace.

Your Table Is Ready is a rollicking, raunchy, revelatory memoir.
About the Author
---
Michael Cecchi-Azzolina has been in the restaurant industry for more than thirty-five years. From his early career at La Rousse, he has gone on to run the front of house at New York's most famous and influential restaurants, including The Water Club, The River Cafe, Raoul's, and Le Coucou. He lives in Manhattan.
Praise For…
---
"For more than three decades I've known Michael Cecchi-Azzolina as a great and gracious Maitre d' at some of New York's hottest restaurants. Who knew he was such a talented writer, or that he was having more fun behind the scenes than most of his guests? Your Table is Ready is the Front of House Kitchen Confidential--a funny, raunchy, savvy and hugely entertaining book." --Jay McInerney

"This peek behind the curtain reveals how a master restaurateur creates a scene so magical that big spenders, delicate egos and the eternally entitled will do almost anything to be in one of the seats at showtime. YOUR TABLE IS READY is required reading for anyone who wants to crack the code on how to get a coveted reservation in the see-and-be-seen restaurants of the moment in New York--or anywhere in the world!"--Michael Fazio, author of Concierge Confidential

"This book is funny, nostalgic, and fascinating, an insider's peek into New York City's most iconic restaurants—including so many of my favorites! From late nights dancing at The Water Club when I was a young actress, to impromptu chats over a glass of wine at Raoul's when I was a young mother, Michael Cecchi-Azzolina captures a golden era. I always feel welcome the minute I see Michael wearing his warm smile, cool glasses and elegant suits and I always leave him laughing; Your Table is Ready will do the same for you." —Brooke Shields

"Michael Cecchi-Azzolina saw it all: the adrenaline-fueled days that built toward the mayhem of a dinner service, the juggling act that conjured a last-minute table when a billionaire showed up on a whim at the hottest restaurant in town. YOUR TABLE IS READY is an uproarious and ultimately endearing look into the personalities and pressures of the dining room in the rough-and-tumble New York City restaurant world of the 1980s and 1990s. Full of tasty bits!" — Andrew Friedman, author of Chefs, Drugs, and Rock and Roll

"What he experienced was an in-house riot of sex, drugs, alcohol and, now and then, excellent cuisine...vivid, detailed, unsparing." — Alan Richman, James Beard award-winning food journalist

"This riveting debut...provides plenty of celebrity encounters, but also reveals how restaurants work.... Readers will gobble up the juicy gossip and decadent stories from a man who has seen it all." —Publishers Weekly, Starred Review

"Cecchi-Azzolina's...tales are entertaining and affecting... His honesty in acknowledging the many ills of the industry's past and its continued long journey to legitimacy is enlightening and refreshing...a vivid, candid account of an admirable restaurant career." —Kirkus Reviews