To Sleep in a Sea of Stars (Fractalverse) (Hardcover)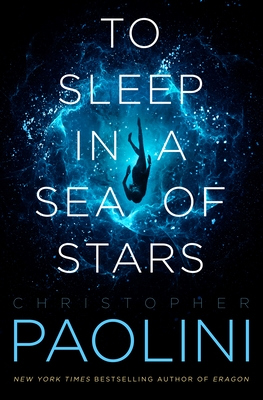 $29.99
This book is not in our store, but most are available for us to get in short order! Send us a message.
Description
---
Now a New York Times and USA Today bestseller!

Winner of Best Science Fiction in the 2020 Goodreads Choice Awards!

To Sleep in a Sea of Stars is a brand new epic novel from #1 New York Times bestselling author of Eragon, Christopher Paolini.

Kira Navárez dreamed of life on new worlds.

Now she's awakened a nightmare.

During a routine survey mission on an uncolonized planet, Kira finds an alien relic. At first she's delighted, but elation turns to terror when the ancient dust around her begins to move.

As war erupts among the stars, Kira is launched into a galaxy-spanning odyssey of discovery and transformation. First contact isn't at all what she imagined, and events push her to the very limits of what it means to be human.

While Kira faces her own horrors, Earth and its colonies stand upon the brink of annihilation. Now, Kira might be humanity's greatest and final hope . . .

The Fractalverse Series
To Sleep in a Sea of Stars
Fractal Noise
About the Author
---
Christopher Paolini, firstborn of Kenneth and Talita. Creator of the World of Eragon and the Fractalverse. Holder of the Guinness World Record for youngest author of a bestselling series. Qualified for marksman in the Australian army. Scottish Laird. Dodged gunfire . . . more than once. As a child, was chased by a moose in Alaska. Has his name inscribed on Mars. Husband. Father. Asker of questions and teller of stories.
Praise For…
---
"A powerful piece of SF, with intelligent writing and big ideas."—Adrian Tchaikovsky, author of Children of Time

"Fans of all kinds, one can be sure, will come to question, and stay to explore."—The Wall Street Journal

"The skills honed in his YA fantasy series, Inheritance (Eragon, 2003), are on full display here in his vibrant world building, especially in the mythology of the alien tech. Paolini populates this universe with a large cast of interesting and relatable characters, and mostly avoids reductive good guy/bad guy dynamics, lending the story a sincere emotional depth. Highly recommended for fans of James A. Corey's The Expanse series and for fantasy fans willing to try space opera."—Booklist, starred review

"Dazzles with otherworldly delights—and unearthly nightmares."—Newsweek

"This is Paolini's best book so far, skillfully done, brilliantly imagined and cleverly executed. It's accessible and engaging and left us wanting more."—Starburst Magazine

"Has that charm that is unique to [Paolini's] writing. The ending was fantastic, big and exciting and with the same outside-the-box thinking I now expect from one of Paolini's endings."—Novel Knight

"The character cast in To Sleep in a Sea of Stars is perfection. Kira is my queen of thorns, and I would trust her with my life and with the fate of humanity."—Ink and Plasma

"Sure to be one of the biggest literary moments of the year."—The Portalist

"Just as he did with his fantasy series, Paolini again captured my complete attention with the sheer breadth of his imagination."—By Hook or By Book

Praise for Christopher Paolini:

"An authentic work of great talent."—New York Times Book Review

"Paolini is a spellbinding fantasy writer."—The Boston Globe

"A breathtaking and unheard of success."—USA Today

"Christopher Paolini is a true rarity."—The Washington Post

"Christopher Paolini make[s] literary magic."—People

"The new 'It' book of children's lit."—U.S. News & World Report

A #1 New York Times Bestseller
A #1 Publishers Weekly Bestseller
A #1 USA Today Bestseller
A Wall Street Journal Bestseller