Wounded Shepherd: Pope Francis and His Struggle to Convert the Catholic Church (Paperback)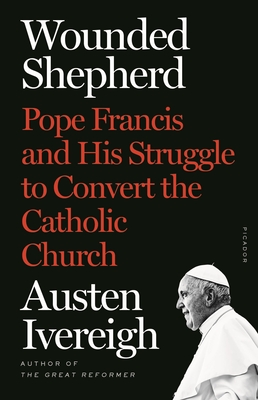 List Price: $22.00
Our Price: $20.00
(Save: $2.00 9%)
Description
---
Following his critically acclaimed The Great Reformer, Austen Ivereigh's colorful, clear-eyed portrait of Pope Francis takes us inside the Vatican's urgent debate over the future of the church in Wounded Shepherd.

This deeply contextual biography centers on the tensions generated by the pope's attempt to turn the Church away from power and tradition and outwards to engage humanity with God's mercy. Through battles with corrupt bankers and worldly cardinals, in turbulent meetings and on global trips, history's first Latin-American pope has attempted to reshape the Church to evangelize the contemporary age. At the same time, he has stirred other leaders' deep-seated fear that the Church is capitulating to modernity—leaders who have challenged his bid to create a more welcoming, attentive institution.

Facing rebellions over his allowing sacraments for the divorced and his attempt to create a more "ecological" Catholicism, as well as a firestorm of criticism for the Church's record on sexual abuse, Francis emerges as a leader of remarkable vision and skill with a relentless spiritual focus—a leader who is at peace in the turmoil surrounding him.

With entertaining anecdotes, insider accounts, and expert analysis, Ivereigh's journey through the key episodes of Francis's reform in Rome and the wider Church brings into sharp focus the frustrations and fury, as well as the joys and successes, of one of the most remarkable pontificates of the contemporary age.
About the Author
---
Austen Ivereigh is a British writer, journalist, and commentator on religious and political affairs who holds a PhD from Oxford University. His work appears regularly in the Jesuit magazine America and in many other periodicals, and he is also the author of The Great Reformer: Francis and the Making of a Radical Pope. He is well-known as a Catholic commentator for the BBC, Sky, ITV, and Al-Jazeera.
Praise For…
---
"Essential reading for historians of this papacy in years to come." —The Tablet

"A thoughtful, essential book." —Booklist, *starred review*

"Highly recommended for readers seeking to understand the complexities of a papacy very different from those of the recent past." —Library Journal, *starred review*

"Fascinating insights…a richly detailed and engaging portrait of Francis as pope." —Commonweal

"Ivereigh's insider account will be a revelation to readers interested in the inner workings of the Vatican." —Publishers Weekly

"In a detailed study packed with insider tidbits, the author examines various overarching issues that have affected and defined the Francis era." —Kirkus Reviews

"[Ivereigh's] book provides a much needed, lucidly written, look at the past seven years…Once you start, you do not want to put this book down." —National Catholic Reporter

"Austen Ivereigh has established himself as the most astute historian of the pontificate of Pope Francis, through his meticulous research, dogged interviewing and vast knowledge of the church. His new book is a peerless look at the sometimes overwhelming challenges facing this groundbreaking pope, whose task is at once simple and complex: to help the church proclaim the Gospel in the modern world. Learned, subtle, and deep, his book is indispensable for understanding this man and this church." —James Martin, SJ, author of Jesus: A Pilgrimage and The Jesuit Guide to (Almost) Everything

"No one has understood the Francis papacy these past six years better than Austen Ivereigh. Masterfully told, with exquisite detail, probing insight, and good humor, his Wounded Shepherd is essential reading for anyone seeking to understand the Church of today—and tomorrow." —Christopher White, National Correspondent, Crux

"Ivereigh's first book on Pope Francis, The Great Reformer, was terrific; Wounded Shepherd is even better. Meticulously researched, beautifully written, insightful, and uplifting, this is the book that goes to the heart—in every sense—of the Francis pontificate: his accomplishments, his failures, and why he acts the way he does." —Mark Shriver, author of Pilgrimage: My search for the real Pope Francis

"The most insightful and nuanced assessment of this extraordinarily consequential pope. Ivereigh shows why Francis has become for so many the emblem of renewed faith and hope for a badly troubled world." —Robert Ellsberg; Publisher, Orbis Books

"Timely, well-researched, with significant new background information and insights, Wounded Shepherd dispels the myths spread by those who oppose Francis's prophetic ministry, allowing the reader to grasp the significance of his far-reaching reforms. Essential reading." —Gerard O'Connell, author of The Election of Pope Francis: An Inside Story of the Conclave that Changed History