The Wedding Plot: A Mercy Carr Mystery (Hardcover)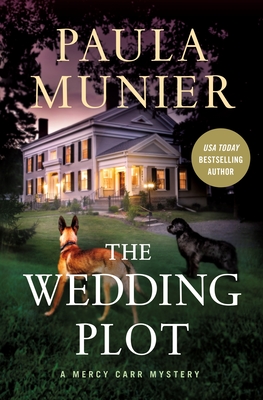 $27.99

Usually Ships in 1-5 Days
Other Books in Series
This is book number 4 in the A Mercy Carr Mystery series.
Description
---
The Wedding Plot, USA Today bestselling author Paula Munier's fourth Mercy Carr mystery, finds Mercy and Elvis at a deadly Vermont wedding.

Love never dies a natural death…

When Mercy's grandmother Patience marries her longtime beau Claude Renault at the five-star Lady's Slipper Inn, it promises to be the destination wedding of the year. Just as the four-day extravaganza is due to begin, the inn's spa director Bodhi St. George disappears—and Mercy's mother Grace sends Mercy and Elvis to find him. But what they discover instead is a stranger skewered by a pitchfork in the barn on the goat farm where St. George lived.

As Mercy tries to figure out who the victim is and where St. George is hiding, the bride and groom's estranged relations gather for the first of the pre-wedding festivities. Long-buried rivalries and resentments surface—and Mercy realizes that they're all keeping secrets that could tear both families apart. When Elvis interrupts the escalating melodrama to alert Mercy to an intruder on the estate, she finds a wounded St. George in the cottage where she and Troy are staying. St. George is not who he says he is—but when he escapes from the hospital and disappears again, Mercy thinks he's gone for good. With the wedding imminent and the families at each other's throats, she decides finding St. George will have to wait.

The big day arrives—but the danger is far from over. With the families and the festivities still under threat, it's up to Mercy and Elvis together with Troy and Susie Bear to stop the killer and save the bride and groom—before death do they part.
About the Author
---
PAULA MUNIER is a literary agent and the USA TODAY bestselling author of the Mercy Carr mysteries. A Borrowing of Bones, the first in the series, was nominated for the Mary Higgins Clark Award and named the Dogwise Book of the Year. Blind Search was inspired by the real-life rescue of a little boy with autism who got lost in the woods. The Hiding Place debuted in March 2021. Paula credits the hero dogs of Mission K9 Rescue, her own rescue dogs, and a deep love of New England as her series' major influences. Paula has also written the popular books on writing: Plot Perfect, The Writer's Guide to Beginnings, and Writing with Quiet Hands, as well as Fixing Freddie and Happier Every Day. She lives in New England with her family and Bear the Newfoundland-retriever rescue, Bliss the Great Pyrenees-Australian cattle dog rescue, pandemic puppy Blondie, a Malinois rescue (much like Elvis in her books), and Ursula The Cat, a rescue torbie tabby who does not think much of the dogs.
Praise For…
---
Praise for the Mercy Carr series:

"A twisty, tangly plot, likable characters and lovable dogs make, THE WEDDING PLOT, a must read!" — Romance Junkies

"Insanely readable... Mercy reminds me very much of the character that drew me to mystery fiction as an adult: Sara Paretsky's V.I. Warshawski. ... This was a fast, fun, intelligent read, sweetened (as these books always are) by the literary epigraphs that begin each chapter. True to this book's theme, they are all about love. I'll jump in – I loved this book." — Aunt Agatha's

"The Wedding Plot is a superbly entertaining mystery, in large part because of the relationship between Mercy and [her dog] Elvis. Such pairings are no stranger to thriller fiction these days, but this one's the best of the bunch for my money." - Jon Land's Thrill List

"I love books where the story and the characters grow out of the place that they're set, and that couldn't be more true of The Hiding Place, which delivers a satisfying, twisty plot, an entertaining ensemble of locals and, of course, a pair of intelligent and heroic dogs." —Ann Cleeves, New York Times Bestselling Author of the Vera and Shetland series

"My favorite human/canine duo, Mercy Carr and Elvis, hit all the marks again in The Wedding Plot. This series has it all—pacing, well-drawn characters, romance, an evocative setting, and best of all, dogs that will win your heart. Highly recommended!" —Deborah Crombie, New York Times bestselling author of the Duncan Kincaid/Gemma James series

"Enjoyable... distinctive characters... This is a fine escapist fare for a hot summer day." —Publishers Weekly on The Wedding Plot

"[The] characters of both Mercy and Elvis are quickly developing into classics." —Aunt Agatha's Bookstore

"There's so much to praise here: Munier's deep knowledge of the culture of hunting (especially the bow-and-arrow variety); her brisk, incisive characterizations; the way she maintains a taut line of suspense throughout; and, best of all, her portrayals of wounded yet still courageous pairs of humans and dogs. A not-to-be-missed K-9 mystery." —Booklist on Blind Search

"The portrayal of working dogs will appeal to fans of David Rosenfelt and Margaret Mizushima. The blend of lovingly detailed setting and lively characters, both human and canine, makes this a series to watch." —Publishers Weekly on A Borrowing of Bones