Witch King (Hardcover)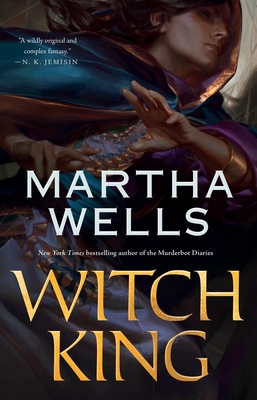 Staff Reviews
---
Elisabeth's June 2023 pick
Allow yourself to be swept into a fantasy novel about an almost-benevolent immortal maybe-demon who wakes up unexpectedly in a mysterious prison (which he promptly breaks out of) and sets out across the ocean (traveling via grumpy whale who is willing to bargain) to head off what is surely a political coup attempt to make another gosh darned human empire, just a generation after he spent a lot of effort to defeat the last one, empires are bad news, why are mortals LIKE THIS, they keep making empires, stop it, it's EXHAUSTING.
Along for the ride is his friend of several decades, an unaging sharp-tongued witch imprisoned with him, a street urchin who they have absentmindedly adopted along the way (what were they gonna do, LEAVE HER?! Let's teach her curses in multiple languages, and how to hold a sword), and an undercover spymaster who isn't where he was supposed to be.
Funny and tense, told in Then and Now chapters (from the main character's youth before the empire swept across the continent until Now as he tries to stop another one), the plot threads braid nicely into a singular story that wraps up by the end of the book. There is room for more story to be told in this world, but there is a firm beginning, middle, and end to this particular story.
There are dragons of a sort, as the descriptions of the demons in their natural bodies in the UnderEarth seem to indicate.
— From
Elisabeth
June 2023 Indie Next List
---
"Martha Wells' specialty is charming antiheroes who triumph with violence and ample dark humor. Witch King centers on a demon prince and a powerful witch as they escape captivity and search for the witch's missing wife. Highly recommend!"
— Carol Schneck Varner, Schuler Books (Okemos), Okemos, MI
Description
---
From the breakout SFF superstar author of Murderbot comes a remarkable story of power and friendship, of trust and betrayal, and of the families we choose.

"I didn't know you were a... demon."
"You idiot. I'm the demon."
Kai's having a long day in Martha Wells' WITCH KING....

After being murdered, his consciousness dormant and unaware of the passing of time while confined in an elaborate water trap, Kai wakes to find a lesser mage attempting to harness Kai's magic to his own advantage. That was never going to go well.

But why was Kai imprisoned in the first place? What has changed in the world since his assassination? And why does the Rising World Coalition appear to be growing in influence?

Kai will need to pull his allies close and draw on all his pain magic if he is to answer even the least of these questions.

He's not going to like the answers.

WITCH KING is Martha Wells's first new fantasy in over a decade, drawing together her signature ability to create characters we adore and identify with, alongside breathtaking action and adventure, and the wit and charm we've come to expect from one of the leading writers of her generation.
About the Author
---
Martha Wells has written many fantasy novels, including Witch King, The Wizard Hunters, Wheel of the Infinite, the Books of the Raksura series (beginning with The Cloud Roads and ending with The Harbors of the Sun), and the Nebula-nominated The Death of the Necromancer, as well as YA fantasy novels, short stories, and nonfiction. Her New York Times and USA Today-bestselling Murderbot Diaries series has won the Hugo, Nebula, Locus, and Alex Awards.
Praise For…
---
A 2023 American Booksellers Pick!
A LibraryReads Pick!

"Wells is working at the height of her powers here, and it's relaxing to be carried along for a ride in the company of such a phenomenal storyteller." —The New York Times

"A wonderfully original world, sympathetic characters and a solid quest make Witch King the satisfying fantasy you yearn for when named swords and cursed rings begin to grow stale." —The Wall Street Journal

"A wildly original and complex fantasy exploring how revolutions are won through trust, and destroyed through selfishness. Wells excels at brooding, powerful inhuman protagonists who just need a little kindness to be their badass best." —N. K. Jemisin

"Unlike anything I've ever read. A layered and complex novel that delivers on the promise of epic fantasy." —Zoraida Córdova

"Fantasy readers looking for new worlds and characters to explore will be enthralled." —Library Journal