The Atlas Six (Atlas Series #1) (Paperback)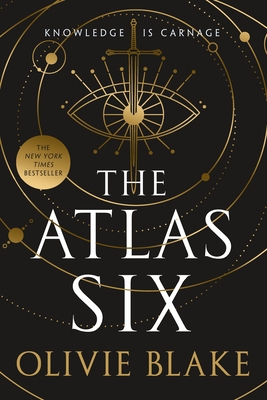 Other Books in Series
This is book number 1 in the Atlas Series series.
Staff Reviews
---
Elisabeth's June 2022 pick
If you had
One shot
Or one opportunity
To seize everything you ever wanted
In one moment
Would you capture it
Or just let it slip?

When the magical Illuminati come calling, informing you that you have been deemed one of the most amazing magicians of your generation, and offering you a chance to join the literal Library of Alexandria and access to all of the information thought lost to mankind, do you say yes? Of course you say yes. It is the LIBRARY of ALEXANDRIA. The Society offers the chance to six people once a decade; 5 will get in, 1 will not.

There are no trials or tests. No teachers to impress. Just each other to win over, so your peers choose to keep you with them. Push your boundaries and skills over the next year, learning from the outermost level of books, and impress each other with what you can do, with how you can work together.
There are:
two physicists (in that they break the laws of physics) orbiting each other in a pre-existing rivalry and hatred like a binary star.
one illusion-breaker, who sees truth no matter what you try to obscure
one disgruntled naturalist, whose passage stirs plants in her wake, leaving their leaves and vines stretching towards her in a desperate bid to please her, rustling "mother mother mother" and telling her gossip
one telepath conwoman from whom you can keep no secrets, and who knows just how to please you or push your buttons to get what she wants
and one empath so powerful and persuasive that he could start a nuclear war within seven minutes were he so inclined. Fortunately, he is extremely unambitious and cares for nothing more than his own amusement. (He frightens me, in his casual and UNempathetic cruelty.)

Olivie Blake's writing took my breath away, especially once I realized, abruptly, halfway through the book, that she had written six different perspectives, with six different lines of academic research and theories, in six different voices. The layers and layers of story that she laid so that it all unraveled at the end, such that I gasped, TWICE within five pages of each other, as the breadcrumbs she had laid down revealed themselves to actually be a cheesecake.

There were no dragons. Or mom's spaghetti.
— From
Elisabeth
Description
---
An Instant New York Times Bestseller
A Vulture Best Fantasy Novel of 2022
A Goodreads Best Fantasy Choice Award Nominee

The much-acclaimed viral sensation from Olivie Blake, The Atlas Six—now newly revised and edited with additional content.

• The tag #theatlassix has millions of views on TikTok
• A dark academic debut fantasy with an established cult following that reads like The Secret History meets The Umbrella Academy
• The first in an explosive trilogy

Each decade, only the six most uniquely talented magicians are selected to earn a place in the Alexandrian Society, the foremost secret society in the world. The chosen will secure a life of power and prestige beyond their wildest dreams.

But at what cost?

Each of the six newest recruits has their reasons for accepting the Society's elusive invitation. Even if it means growing closer than they could have imagined to their most dangerous enemies— or risking unforgivable betrayal from their most trusted allies— they will fight tooth and nail for the right to join the ranks of the Alexandrians.

Even if it means they won't all survive the year.

Also by Olivie Blake
The Atlas Paradox
Alone With You in the Ether
One For My Enemy
Masters of Death
About the Author
---
OLIVIE BLAKE is the New York Times bestselling author of The Atlas Six, Alone with You in the Ether, One for My Enemy, and Masters of Death. As Alexene Farol Follmuth, she is also the author of the young adult rom-coms My Mechanical Romance and Twelfth Knight. She lives in Los Angeles with her husband, goblin prince/toddler, and rescue pit bull.
Praise For…
---
"The Atlas Six introduces six of the most devious, talented, and flawed characters to ever find themselves in a magical library, and then sets them against one another in a series of stunning betrayals and reversals. As much a delicious contest of wit, will, and passion as it is of magic, this book is half mystery, half puzzle, and wholly a delight." — Holly Black, New York Times bestselling author of The Book of Night

"Lethally smart. Filled with a cast of brilliantly realized characters, each entangled with one another in torturously delicious ways, The Atlas Six will grip you by the throat and refuse to let go. Olivie Blake is a mind-blowing talent. " — Chloe Gong, author of New York Times bestselling These Violent Delights

"Compelling, entertaining, and addictive. The Atlas Six is academic Darwinism: survival of the smartest with a healthy dose of magic." — T.L. Huchu, author of The Library of The Dead

"For die-hard lovers of dark academia." — Publishers Weekly

" This chilling story of ambition and magic will make you question your own morals as you grow to love (and hate) its fascinating, ruthless cast of characters. I utterly devoured this book." — Amanda Foody, author of All of Us Villains