Legends & Lattes: A Novel of High Fantasy and Low Stakes (Paperback)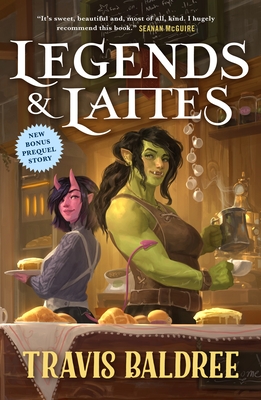 Staff Reviews
---
Ryan's February 2023 pick (1 of 2)
I bet you didn't know you needed a story about an Orc who lays down her sword and opens up a coffee shop, but you absolutely need this story.
Viv is getting out of the battle business. She's hanging up her sword, literally, and opening a café, which is a completely foreign concept to the folks in the city of Thune. Viv garners the help of Cal, Tandri, and Thimble, and her quiet dreams begin to come true.
This book is deliciously cozy. I found myself completely swept up in the mundane day-to-day workings of the coffee shop. I was riveted by the process of opening the cafe. I delighted in Thimble's confections and concoctions. I blushed every time Tandri and Viv lightly flirted. Legends & Lattes is so heartwarming and sweet, and filled to the brim with kindness and love, and the teeniest pinch of adventure sprinkled in.
I absolutely devoured this book. Reading it was like sipping a perfectly made cup of coffee. This is a book that everyone can enjoy. Whether this is your first foray into fantasy, or you've been deep in the genre your whole life, this sweet, uplifting novel is exactly what you need. Trust me.
— From
Ryan
November 2022 Indie Next List
---
"Legends & Lattes is the perfect low stakes, found family cozy fantasy. Viv, Cal, Tandri, and ESPECIALLY Thimble are such lovable characters. Who doesn't want a latte from an Orc barista and a hot cinnamon bun from an adorable ratkin?!"
— Hannah Cloutier, The Bookery Manchester, Manchester, NH
Description
---
An Instant New York Times Bestseller
A Barnes & Noble Best Book of 2022
A Library Reads Pick
An Indie Next Pick
A Goodreads Best Fantasy Choice Award Nominee

The much-beloved BookTok sensation, Travis Baldree's novel of high fantasy and low stakes.

*This new edition includes a very special, never-before-seen bonus story, 'Pages to Fill.'*

After a lifetime of bounties and bloodshed, Viv is hanging up her sword for the last time.

The battle-weary orc aims to start fresh, opening the first ever coffee shop in the city of Thune. But old and new rivals stand in the way of success — not to mention the fact that no one has the faintest idea what coffee actually is.

If Viv wants to put the blade behind her and make her plans a reality, she won't be able to go it alone.

But the true rewards of the uncharted path are the travelers you meet along the way. And whether drawn together by ancient magic, flaky pastry, or a freshly brewed cup, they may become partners, family, and something deeper than she ever could have dreamed.

"Take a break from epic battles and saving the world. Legends & Lattes is a low-stakes fantasy that delivers exactly what's advertised: a wholesome, cozy novel that feels like a warm hug. This is my new comfort read."—Genevieve Gornichec, author of The Witch's Heart
About the Author
---
Travis Baldree is a full-time audiobook narrator who has lent his voice to hundreds of stories. Before that, he spent decades designing and building video games like Torchlight, Rebel Galaxy, and Fate. Apparently, he now also writes books. He lives in the Pacific Northwest with his very patient family and their small, nervous dog.
Praise For…
---
"This is a story about following your dreams, even when they take you away from who you thought you had to be. It's sweet, beautiful and, most of all, kind. I hugely recommend this book."—Seanan McGuire, New York Times bestselling author of Every Heart A Doorway

"This slice-of-life cozy fantasy novel has everything you've been searching for."—Buzzfeed

"Legends & Lattes is a big-hearted story about the small things in life. A lovingly written ode to the genre, it is a must-read for every D&D player who has ever wondered what happens after 'happily ever after.'"—Cassandra Khaw, USA Today bestselling author

"A gentle little cozy set against an epic fantasy backdrop. . . . This charming outing will please anyone who's ever wished to spend time in a fantasy world without all the quests and battles."—Publishers Weekly

"Legends & Lattes is a uniquely beautiful book. Its cast of endearing characters have no interest at all in killing one another. There is no Great Evil, no bloody battles, and yet the pillars of great fantasy—resilience, fellowship, and a desire to make the world a better place—are all here. It's wonderfully wholesome, and I hope heralds the rise of a 'slice-of-life' sub-genre in modern fantasy."—Nicholas Eames, author of Kings of the Wyld

"The most fun I've ever had in a coffee shop."—Ben Aaronovitch, bestselling author of Rivers of London

"I absolutely loved this book. It's a heartwarming story of how effort, intention and coffee can work together to change the world for the better. Fills my hunger for happy endings."—Genevieve Cogman, author of The Invisible Library

"An orc retires from adventuring to start a fantasy city's very first coffee shop. This setup combined with the positive messages of defying societal stereotypes, letting go of violence to build peace, and trusting in your friends feels like a premise from Terry Pratchett's Discworld. . . . Legends & Lattes is a novel, and shop, that will delight anyone who enjoys coffee-shop alternate universes, slow-burn romances, and the vindication of friendship."—Booklist, starred review

"The definition of a cozy fantasy comfort read. . . . It was lovely."—Olivia Atwater, author of Half a Soul

"Take a break from epic battles and saving the world. Legends & Lattes is a low-stakes fantasy that delivers exactly what's advertised: a wholesome, cozy novel that feels like a warm hug. This is my new comfort read."—Genevieve Gornichec, author of The Witch's Heart

"Baldree's book is beautiful and uplifting, a soothing tonic in our troubled times. Escape into its pages and you won't ever want to leave."—T. L. Huchu, author of The Library of the Dead

"A love letter to queer D&D players."—Autostraddle

"Those looking for a more peaceful story set in a world reminiscent of the fantasy landscapes they love will adore Legends & Lattes—and keep an eye out for Baldree's next charming tale."—BookPage

"This is a warm hug of a book, a place to retreat from the world for a little while, drink a coffee, and come out a little better."—T. Kingfisher, USA Today bestselling author of Nettle & Bone

"If you like fantasy but you're tired of reading about wars and general intensity, this is the book for you. . . . Cozy fantasy at its best."—Literary Hub