Poetry Unbound: 50 Poems to Open Your World (Hardcover)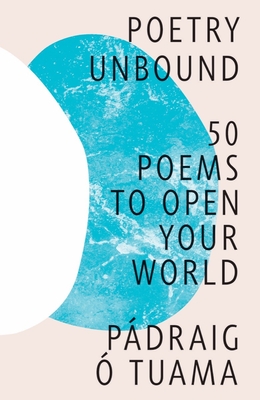 Description
---
Expanding on the popular podcast of the same name from On Being Studios, Poetry Unbound offers immersive reflections on fifty powerful poems.
In the tumult of our contemporary moment, poetry has emerged as an inviting, consoling outlet with a unique power to move and connect us, to inspire fury, tears, joy, laughter, and surprise. This generous anthology pairs fifty illuminating poems with poet and podcast host Pádraig Ó Tuama's appealing, unhurried reflections. With keen insight and warm personal anecdotes, Ó Tuama considers each poem's artistry and explores how its meaning can reach into our own lives.
Focusing mainly on poets writing today, Ó Tuama engages with a diverse array of voices that includes Ada Limón, Ilya Kaminsky, Margaret Atwood, Ocean Vuong, Layli Long Soldier, and Reginald Dwayne Betts. Natasha Trethewey meditates on miscegenation and Mississippi; Raymond Antrobus makes poetry out of the questions shot at him by an immigration officer; Martín Espada mourns his father; Marie Howe remembers and blesses her mother's body; Aimee Nezhukumatathil offers comfort to her child-self. Through these wide-ranging poems, Ó Tuama guides us on an inspiring journey to reckon with self-acceptance, history, independence, parenthood, identity, joy, and resilience.
For anyone who has wanted to try their hand at a conversation with poetry but doesn't know where to start, Poetry Unbound presents a window through which to celebrate the art of being alive.
About the Author
---
Pádraig Ó Tuama is a poet, theologian, and presenter of the podcast Poetry Unbound with On Being Studios. From 2014 to 2019 he was the leader of the Corrymeela Community, Ireland's oldest peace and reconciliation community. He lives in Belfast, Ireland.
Praise For…
---
Pádraig Ó Tuama's close reading of my 'Wonder Woman' poem was a gift. I was and am deeply moved.
— Ada Limón, United States Poet Laureate

The Poetry Unbound podcast, and Pádraig's way of finding language to describe the details and intricacies and the shades of gray of the human experience have made me a better person, a better songwriter, and a better artist.… I would urge everyone to dive into this deeply rewarding book.

— Camila Cabello

Poetry Unbound is fifty poems and 300 pages of commentary revealing and confessing why a line of verse might make you weep. But more than that, it is a collection of moments and meditations and a turning toward the ways that some memories, of sorrow and joy, might make us hold on a little while longer, long enough in fact.

— Reginald Dwayne Betts, author of Felon

Magnificent.… Pádraig Ó Tuama's abilities as a curator of poems, combined with his remarkable gift for unpacking poems in such illuminating and generous ways, make this ground-breaking publication one of the most engrossing books I have read in recent years.
— Stephen Fry

Mesmerizing, magical, deeply moving.… If you are looking for a read that will warm your heart, inspire your creative mind, and renew your faith in the resilience of the human race, look no further.
— Elif Shafak, author of The Island of Missing Trees

Pádraig Ó Tuama has been called to bring his illuminating insights into what some might consider encroaching darkness, and we are all the fortunate beneficiaries of his response. This book is a testament to the rare fineness of feeling and understanding that mark his brilliant work for the On Being Project.
— Lorna Goodison, former Poet Laureate of Jamaica