Book Boyfriend (Paperback)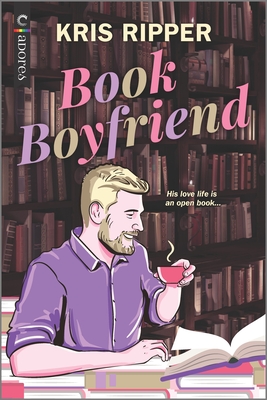 $14.99

Usually Ships in 1-5 Days
Staff Reviews
---
Elisabeth's April 2022 pick
Book Boyfriend is a ridiculously sweet and (delightfully) messy romance about a disastrous muppet of a man who is desperately in love with his best friend, and writes a romance novel to prove that he doesn't have the emotional range of a teaspoon, but neglects to take into account that he has the emotional intelligence of a stand mixer and thus panics when he realizes that they will suddenly KNOW that he is desperately in love with them, and thus hides the fact that his romance novel is getting published and they will know that the lovely story is based off of a fictional version of the two of them.
I mean, it sounded sweet when he started writing it, putting his thoughts and feelings and yearning on the page, but oh my goodness can you imagine reading romantic fanfiction and realizing that that's you on the page?
He does not have an exit plan.
He is a hot mess and a complete wreck of a person and I absolutely adored him.
Steam Level 1 (smooches at the end). Bonus: non-binary love interest, no dramatic love triangles, supportive friends. Trigger warning for a supporting character's off-page drug use and overdose (no deaths).
— From
Elisabeth
Description
---
"This is a delight." --Publishers Weekly on The Hate Project
A secret crush leads to not-so-secret romance in this delightful romantic comedy from Kris Ripper
There are three things you need to know about Preston "PK" Kingsley:
He's a writer, toiling in obscurity as an editorial assistant at a New York City publishing house.
He is not a clich . No, really.
He's been secretly in love with his best friend, Art, since they once drunkenly kissed in college.
When Art moves in with PK following a bad breakup, PK hopes this will be the moment when Art finally sees him as more than a friend. But Art seems to laugh off the very idea of them in a relationship, so PK returns to his writing roots--in fiction, he can say all the things he can't say out loud.
In his book, PK can be the perfect boyfriend.
Before long, it seems like the whole world has a crush on the fictionalized version of him, including Art, who has no idea that the hot new book everyone's talking about is PK's story. But when his brilliant plan to win Art over backfires, PK might lose not just his fantasy book boyfriend, but his best friend.
Carina Adores is home to romantic love stories where LGBTQ+ characters find their happily-ever-afters.

Also from Kris Ripper:

The Love Study
Book 1: The Love Study
Book 2: The Hate Project
Book 3: The Life Revamp