Over the Moon (Hardcover)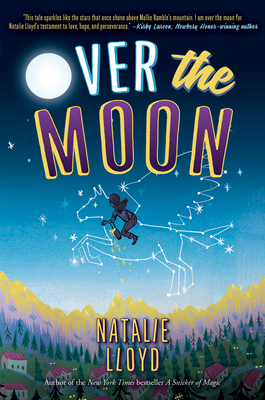 $16.99

Usually Ships in 1-5 Days
Staff Reviews
---
Cheri's March 2019 pick
This is a magical adventure story. Mallie lives in a world that is dark and filled with a harmful dust. Life is dreary and hard. Mallies father has lost his voice and is unable to work. Her brother, Denver, is destined to her father's fate in the mines. Mallie helps to make ends meet by cleaning the houses of the rich. An opportunity comes up as a way to lift her family out of their precarious state. The danger of the opportunity is presented up front, but the rewards are too great to pass up. What Mallie didn't expect was a way to save the whole world on the back of a winged horse! You will enjoy this exciting adventure to the stars.
— From
Cheri
Description
---
"Strong themes of friendship and loyalty drive Lloyd's story, which soars under Mallie's heroic lead [whose] physical disability never holds her back. Rather, she bravely proves that questions have power and one's story can be reshaped." -Booklist, starred reviewTwelve-year-old Mallie knows better than to dream. In Coal Top, you live the story you're given: boys toil in the mines and girls work as servants. Mallie can't bear the idea of that kind of life, but her family is counting on her wages to survive.It wasn't always this way. Before the Dust came, the people of Coal Top could weave starlight into cloth. They'd wear these dreaming clothes to sleep and wake up with the courage to seek adventure . . . or the peace to heal a broken heart. But now nothing can penetrate Coal Top's blanket of sorrow.So when Mallie is chosen for a dangerous competition in which daring (and ideally, orphaned) children train flying horses, she jumps at the chance. Maybe she'll change her story. Maybe she'll even find the magic she needs to dream again.But the situation proves even more dangerous when Mallie uncovers a sinister mystery at the heart of Coal Top's struggles -- a mystery some powerful people will do anything to protect.
About the Author
---
Natalie Lloyd lives in Chattanooga, Tennessee. She collects old books, listens to bluegrass music, and loves exploring quirky mountain towns with her dog, Biscuit. She is the author of A Snicker of Magic and The Key to Extraordinary.
Praise For…
---
Praise for Over the Moon:
"Lloyd presents a bleak portrait of a fantasy-world mining community that faces similar challenges to the ones in our own real world, but Mallie's story is essentially one of daring journeys and heroic adventure." -- Horn Book
"Lloyd deftly sketches oppressive social and economic circumstances and firmly establishes Mallie's bravery." -- Publishers Weekly
Praise for A Snicker of Magic:
* "This tale offers all [the] earmarks of fine storytelling, including colorful, eccentric characters, an original, highly likable narrator and a mighty 'spindiddly' plot." -- Kirkus Reviews, starred review
* "From every angle, Lloyd's first novel sparkles and radiates warmth . . . Working in the folksy vein of Ingrid Law's Savvy, Lloyd offers a reassuring, homespun story about self-expression and the magic that resides in one's mind and heart." -- Publishers Weekly, starred review
* "A delightful and inspiring debut . . . Mibs Beaumont and her magically gifted clan from Ingrid Law's SAVVY would feel right at home here. As Felicity loves to say, 'Yes...yes...yes!'" -- School Library Journal, starred review
Praise for Over the Moon:
"Lloyd presents a bleak portrait of a fantasy-world mining community that faces similar challenges to the ones in our own real world, but Mallie's story is essentially one of daring journeys and heroic adventure." -- Horn Book
"Lloyd deftly sketches oppressive social and economic circumstances and firmly establishes Mallie's bravery." -- Publishers Weekly
Praise for A Snicker of Magic:
* "This tale offers all [the] earmarks of fine storytelling, including colorful, eccentric characters, an original, highly likable narrator and a mighty 'spindiddly' plot." -- Kirkus Reviews, starred review
* "From every angle, Lloyd's first novel sparkles and radiates warmth . . . Working in the folksy vein of Ingrid Law's Savvy, Lloyd offers a reassuring, homespun story about self-expression and the magic that resides in one's mind and heart." -- Publishers Weekly, starred review
* "A delightful and inspiring debut . . . Mibs Beaumont and her magically gifted clan from Ingrid Law's SAVVY would feel right at home here. As Felicity loves to say, 'Yes...yes...yes!'" -- School Library Journal, starred review