The Piano Tuner: A Novel (Paperback)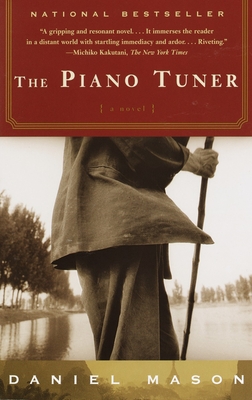 Description
---
A New York Times Notable Book
A San Francisco Chronicle, San Jose Mercury News, and Los Angeles Times Best Book of the Year

"A gripping and resonant novel. . . . It immerses the reader in a distant world with startling immediacy and ardor. . . . Riveting." —Michiko Kakutani, The New York Times

In 1886 a shy, middle-aged piano tuner named Edgar Drake receives an unusual commission from the British War Office: to travel to the remote jungles of northeast Burma and there repair a rare piano belonging to an eccentric army surgeon who has proven mysteriously indispensable to the imperial design. From this irresistible beginning, The Piano Tuner launches readers into a world of seductive, vibrantly rendered characters, and enmeshes them in an unbreakable spell of storytelling.
About the Author
---
Daniel Mason was born and raised in Northern California. He studied biology at Harvard, and medicine at the University of California, San Francisco. His first novel, The Piano Tuner, published in 2002, was a national bestseller and has since been published in 27 countries. His other works include A Far Country, The Winter Soldier, and A Registry of My Passage Upon Earth, and his writing has appeared in Harper's Magazine and Lapham's Quarterly. He lives in the San Francisco Bay Area.
Praise For…
---
"A gripping and resonant novel. . . . It immerses the reader in a distant world with startling immediacy and ardor. . . . Riveting." —Michiko Kakutani, The New York Times

"An ambitious, adventuresome, highly unusual first novel that offers pleasures too rarely encountered in contemporary American literary fiction. . . . [Mason is] a gifted, original and courageous writer." —The Washington Post Book World

"Luminous. . . . Mason's writing achieves that kind of reverie in which every vision, tone, flavor and sensation is magnified." —Los Angeles Times

"Intoxicating, full of sights to see, histories to learn, stories to entertain." —USA Today

"Remarkable. . . . A profound adventure story." –The New Yorker

"Inspired. . . . The Piano Tuner is a brilliant debut." –Miami Herald

"Reminded me of books I read by flashlight, under the covers, when I was young." –USA Today

"Mason's writing achieves that kind of reverie in which every vision, tone, flavor and sensation is magnified." –LA Times

"Excellent. . . . [Mason's] powerful prose style and his ability to embrace history, politics, nature and medicine . . . [is] astonishing." –The New York Times Book Review

"The Piano Tuner is a haunting, passionate story of empire and individualism. . . . [Mason is] a gifted writer." –San Francisco Chronicle

"This wondrous work of fiction . . . artfully weaves psychology, politics, medicine and music theory into a polyphonic composition. . . . A virtuoso performance." –Newsday

"[A] very fine first novel. . . . Its author is rich in talent and promise." –Philadelphia Inquirer

"Daniel Mason's ambitious, lyrical The Piano Tuner . . . [possesses] genuine moments of ominous beauty. . . . Readers . . . should be intrigued by the mix of historical detail, lush settings, and equally lush language." –San Jose Mercury News

"A smart, entertaining adventure." –Christian Science Monitor

"An intense, shimmering dream of a story." –Grand Rapids Press

"Mason has improvised a virtuoso tale . . . a complex and subtly imagined adventure." –Guardian Unlimited