The Holy Ghost: A Spirited Comic (Hardcover)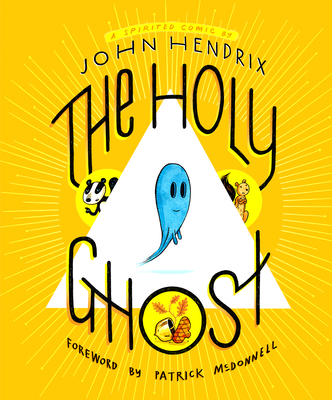 $18.99

Usually Ships in 1-5 Days
Description
---
From the New York Times bestselling and award-winning artist John Hendrix comes this charming, funny, and thought-provoking collection of spiritual comics
Does God exist? Is there a heaven? What's the point of it all? Do we even matter?

This collection of thought-provoking, humorous comic strips is a series of conversations between a squirrel, a badger, and a friendly blue ghost who may or may not be one third of the Holy Trinity. Charming, witty, and at times poignant, yet never holier-than-thou, New York Times bestselling and award-winning illustrator John Hendrix tackles some of life's greatest questions. Whether you consider yourself faithful or a nonbeliever, these delightfully off-kilter comics deliver laughter, comfort, and philosophical musings with humble, honest spirit—and just the right dose of playful irreverence.
About the Author
---
John Hendrix is a New York Times bestselling author and illustrator. His books include The Faithful Spy: Dietrich Bonhoeffer and the Plot to Kill Hitler, named a Best Book of 2018 by NPR, and Drawing Is Magic: Discovering Yourself in a Sketchbook. His award-winning illustrations have appeared on book jackets and in newspapers and magazines. He is chair of the MFA Illustration and Visual Culture program in the Sam Fox School of Design & Visual Arts at Washington University in St. Louis. Hendrix lives in Webster Groves, Missouri.
Praise For…
---
"Cartoonist Hendrix's first collection is an amusing and sensitive exploration of Christian belief...In a masterful avoidance of treacle, Hendrix probes tender ideas like seeing God in emptiness and ugliness, the challenge of loving the outsider, and cosmic insignificance...Hendrix portrays a surprising range of emotions with his simple character drawings...The handwritten text adds a charming earnestness...It's a delightful trove that'll provoke reflection and grins."

— Publishers Weekly

"John Hendrix makes a great case that the Holy Ghost is still worth your time. In his winsome new graphic novel,'The Holy Ghost,' introduces us to a spirit who is charming, approachable and insightful...he does for this underrated part of the Godhead what Charles M. Schulz did for beagles."

— St. Louis Public Radio