Getting the Love You Want: A Guide for Couples: Second Edition (CD-Audio)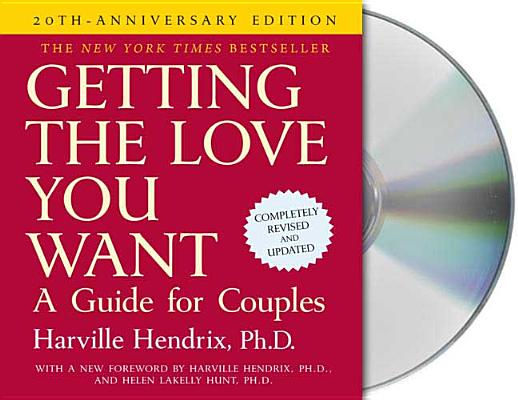 $44.95
It's Complicated - Contact Us for More Information
Description
---
In Getting the Love You Want, Dr. Harville Hendrix presents the relationship skills that have already helped hundreds of thousands of couples to replace confrontation and criticism with a healing process of mutual growth and support. This extraordinarily practical guide describes the revolutionary technique of Imago Relationship Therapy, which combines a number of disciplines—including the behavioral sciences, depth psychology, cognitive therapy, and Gestalt therapy, among others—to create a program to resolve conflict and renew communication and passion.

In a new chapter and afterword, we learn the key ways in which Imago Therapy—now practiced by more than two thousand therapists worldwide—can be used to help couples eliminate all negativity from their daily interactions. This fundamental change has proven invaluable in couples' therapy, and the importance of eliminating negativity has been integrated throughout the text, allowing listeners of the 2008 edition to benefit from Dr. Hendrix's ongoing discoveries during his last two decades of work.
About the Author
---
Harville Hendrix, Ph.D.,
is the author of
Getting the Love You Want: A Guide for Couples
, a
New York Times
bestseller that has sold more than two million copies. He has more than thirty years' experience as an educator and therapist. He specializes in working with couples in private practice, teaching marital therapy to therapists, and conducting couples workshops across the country. Dr. Hendrix is the founder/director of the Imago Institute for Relationship Therapy. He lives in New Jersey and New Mexico.
Jack Garrett has narrated a number of audiobooks including Mary Jo Putney's The Burning Point, Ed Gorman's Shoot First, and Paulette Jiles's The Color of Lightning, which won an AudioFile magazine Earphones Award.  Garrett also read Getting the Love You Want, 20th Anniversary Edition about which AudioFile magazine said, "Jack Garrett's vocal quality and nuanced dramatic skills are perfect for the emotional narrative as well as its prescriptive aspects.  His genuine interpretation is steady enough to provide continuity and varied enough to keep listeners engaged throughout."

 Garrett has also  worked extensively in commercials and as an announcer on several radio stations.  On television, he's appeared in The Gaveltons and on The Jon Stewart Show.  He's performed on stage in several productions including Guys and Dolls, Thirty Seconds to Hell, A Pretty World, and Cast a Spell.
Praise For…
---
"I know of no better guide for couples who genuinely desire a maturing relationship." —M. Scott Peck, author of The Road Less Traveled

"Getting the Love You Want is a remarkable book--the most incisive and persuasive I have ever read on the knotty problems of marriage relationships." —Ann Roberts, Former President, Rockefeller Family Fund

"Harville Hendrix offers the best program I've seen for using the love/hate energy in marriage to help a couple heal one another and to become whole together." —T. George Harris, Editor-in-Chief, American Health magazine

"This book will help any couple find the love they want hidden under all the concealing confusion of a close and intimate relationship. I have seen these principles in application and they work!" —James A. Hall, M.D.