Tanks of D-Day 1944: Armor on the beaches of Normandy and southern France (New Vanguard) (Paperback)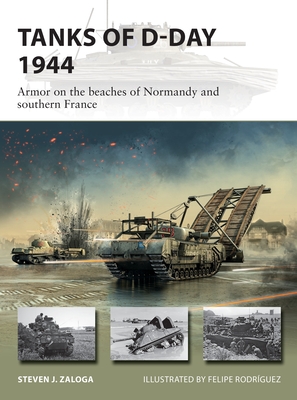 $19.00
It's Complicated - Contact Us for More Information
Description
---
An authoritative and fresh new study of Allied tanks' role in smashing the walls of Fortress Europe on D-Day.

Allied success in invading Fortress Europe (the area of Continental Europe occupied by Nazi Germany) depended on getting armor onto the beaches as fast as possible. This book explains how the Allies developed the specialist tanks it needed, their qualities, deployment, and numbers, and how they performed on the two crucial days when France was invaded, firstly in Normandy and then in Provence.

The focus of this volume will be on the specialized tanks developed for the Operation Neptune amphibious landings including the Duplex Drive amphibious Sherman tanks used on both the US and British/Canadian beaches. It also covers the specialized engineer tanks called "Armoured Funnies" of the British 79th Armoured Division and addresses the popular myth that US Army refusal to employ the Armoured Funnies was a principal cause for the high casualties at Omaha Beach. There is also coverage of Operation Overlord's "Forgotten D-Day", the amphibious landings of Operation Dragoon. This book addresses why there were so few Panzers opposing the landings from the German perspective as well as detailing the extent of German tank/assault gun activity on D-Day.
About the Author
---
Steven J. Zaloga received his BA in History from Union College and his MA from Columbia University. He has worked as an analyst in the aerospace industry for four decades, covering missile systems and the international arms trade, and has served with the Institute for Defense Analyses, a federal think tank. He is the author of numerous books on military technology and history, including NVG 294 Allied Tanks in Normandy 1944 and NVG 283 American Guided Missiles of World War II. He currently lives in Maryland, USA.

Felipe Rodríguez Náñez (aka Felipe Rodna) was born in 1976, and lives with his wife and two sons in Salamanca, Spain, where he works as an architect and computer graphics artist. He combines his experience in CG art and his passion for modelling in his illustrations, where he looks for a good balance between technical detail and craft.