This Is Where It Ends (Paperback)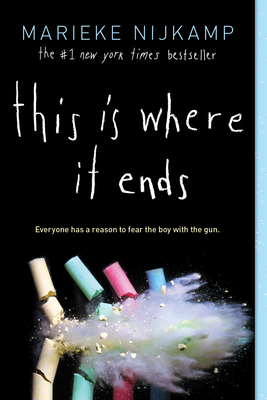 Staff Reviews
---
Fal's January 2022 pick, 2 of 2
this is where it ends is a heartbreaking novel that revolves around a school shooting and the four characters who find their lives forever altered because of one boy's actions. The narrative switches between these characters, and whether it's by love, hate, or blood, they're all connected to each other and to the shooter himself.
In an age where school shootings are becoming alarmingly common, this book does a fantastic job of showcasing the horror, the fear, and the devastation. More importantly, it shows just how fast one's life can change and how there truly is no warning for the unimaginable.
There is no happy ending for this book, but there is a hopeful one. A brutal novel with a horrifying truth, it's a beautiful read that will leave readers thinking about its contents for a long, long time.
Please note – this book is not for the faint-hearted, and the contents of this novel can be triggering to some.
— From
Fal
Description
---
The reviews are in! This Is Where It Ends, the #1 New York Times bestseller and one of the Best Books of the Decade (Buzzfeed, Paste Magazine, BookRiot), "could break you." "I am speechless." "The saddest book I have ever read." "Literally tore my heart out."
Go inside a heartbreaking fictional school shooting, minute-by-terrifying-minute. Everyone has a reason to fear the boy with the gun...
10:00 a.m.: The principal of Opportunity, Alabama's high school finishes her speech, welcoming the entire student body to a new semester and encouraging them to excel and achieve.
10:02 a.m.: The students get up to leave the auditorium for their next class.
10:03 a.m.: The auditorium doors won't open.
10:05 a.m.: Someone starts shooting.
Over the course of 54 minutes, four students must confront their greatest hopes, and darkest fears, as they come face-to-face with the boy with the gun. In a world where violence in schools is at an all-time high and school shootings are a horrifyingly common reality for teenagers, This Is Where It Ends is a rallying cry to end the gun violence epidemic for good. 
Praise for This Is Where It Ends:
A Buzzfeed Best Young Adult Book of the Decade
A Paste Magazine Best Teen Book of the Decade
A Book Riot Biggest YA Book of the Decade
A Professional Book Nerds Best Book of the Decade
A Bustle.com Most-Anticipated YA Novel
A Goodreads YA Best Books Pick
A Goodreads Choice Award Finalist for Young Adult Fiction
Kids Indie Next List Pick
"Marieke Nijkamp's brutal, powerful fictional account of a school shooting is important in its timeliness." —Bustle.com
"A gritty, emotional, and suspenseful read and although fictionalized, it reflects on a problematic and harrowing issue across the nation." —Buzzfeed
"A compelling, brutal story of an unfortunately all-too familiar situation: a school shooting. Nijkamp portrays the events thoughtfully, recounting fifty-four intense minutes of bravery, love, and loss." —BookRiot
About the Author
---
MARIEKE NIJKAMP is the #1 New York Times bestselling author of This Is Where it Ends and Before I Let Go. She is a storyteller, dreamer, globe-trotter, geek. She holds degrees in philosophy, history, and medieval studies, has served as an executive member of We Need Diverse Books, and is the founder of DiversifYA. She lives in the Netherlands. Visit her at mariekenijkamp.com.