Magic Ramen: The Story of Momofuku Ando (Hardcover)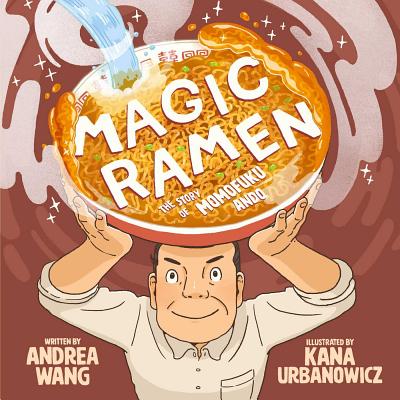 $18.99

Usually Ships in 1-5 Days
Description
---
World War II was over, but in Japan, lines for a simple bowl of ramen noodles wound down the sidewalk. What Momofuku Ando did next would change food forever. Andrea Wang, author of Watercress (a Newberry honor book and winner of the Caldecott Medal), tells the true story behind the creation of one of the world's most popular foods.

"An inspiring story of persistence and an ideal purchase for any collection." School Library Journal, STARRED review

2021 Nutmeg Book Awards Nominee

Winner of the 2020 Sakura Award

Read Across America Book of the Month, May 2021

Center for Multicultural Children's Literature Best Book of 2019 List

Smithsonian Magazine '10 Best Children's Books of 2019′ List

Every day, Momofuku Ando would retire to his lab--a little shed in his backyard. For years, he'd dreamed about making a new kind of ramen noodle soup that was quick, convenient, and tasty for the hungry people he'd seen in line for a bowl on the black market following World War II. Peace follows from a full stomach, he believed.

Day after day, Ando experimented. Night after night, he failed. But Ando kept experimenting.

With persistence, creativity, and a little inspiration, Ando succeeded. This is the true story behind one of the world's most popular foods.
About the Author
---
Andrea Wang, the Newberry Honor and APALA Award winning author of the Caldecott Medal winning Watercress, loves noodles, food, and noodling about food. A former environmental scientist, she appreciates Ando's scientific spirit, persistence in the face of failure, and passion for making the world a better place.Andrea lives in Colorado with her family and their dog, Mochi. Sometimes they have instant ramen for breakfast. You can find out more about Andrea at andreaywang.com.

Kana Urbanowicz works mainly as an illustrator and likes to draw people eating delicious food. Apart from illustration, she also creates animations, comics, and even clay figurines. She lives in Kanagawa, Japan, with her artist husband. By a lucky coincidence, there is a Momofuku Ando museum nearby, so she went there for some inspiration and noodle fun. After reading Ando's biography, Kana is happy that she could take part in making this book happen! Read more about her works at tekumushi.com.
Praise For…
---
An inspiring story of persistence and an ideal purchase for any collection.
— School Library Journal, STARRED REVIEW

Eaters of all ages will enjoy learning about the history of this popular food gone global.
— Kirkus Reviews

Magic Ramen, for me, is the kind of book that can bridge that gap between kids that like fact and kids that like fiction. Luring fiction readers over to the world of informational texts is one of my great pleasures in life. It isn't all that hard, if the book is interesting enough, the text fun, and the subject original. This is the book that can convince a child that real life is just as full of kooky stories as anything you could make up. So here's to the little bio unafraid to try something new. And, unlike Momofuku Ando, it gets it right on the very first try.
— Betsy Bird

"Warning: Reading this on a cold, snowy day will give you a serious hankering for the stuff
[ramen]. Just ask my five-year-old...As Publisher's Weekly notes, 'Starry-eye as it may sound, the goal of
peace through food seems important - and possible - by the story's end.'"
— Smithsonian Magazine

"Vivid artwork by debut artist Urbanowicz uses a clear line style to combine documentary seriousness
with humor, drawing Ando eyeing a piece of his wife's tempura, wondering whether deep-frying the
noodles will allow boiling water to penetrate them. (It does.) Persistence is at the heart of this success
story as Ando presses on despite numerous setbacks. And, starry-eyed as it may sound, the goal of
peace through food seems important - and possible - by the story's end."
— Publishers Weekly