IELTS Superpack (Barron's Test Prep) (Paperback)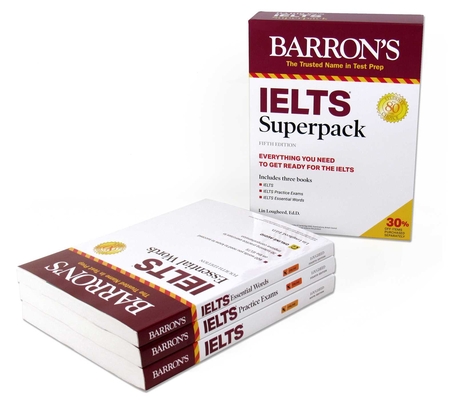 $69.99

Usually Ships in 1-5 Days
Description
---
Barron's all-books-in-one IELTS Superpack provides the most comprehensive preparation available to help you master your English-language proficiency exam. This three-book set features test-like practice exams, audio tracks online, and essential review to help you prepare for the exam.
IELTS Superpack
includes:

Barron's IELTS: Get comprehensive prep with 4 Academic Module practice exams and 2 General Training Module practice exams, plus extensive subject review and access to audio tracks online.


IELTS Practice Exams: You'll get 6 Academic Module practice exams and 6 General Training Module practice exams with comprehensive answer explanations, plus audio material online.


IELTS Essential Words: Build your vocabulary with 600 words that appear most frequently on IELTS exams, plus access to audio online.

About the Author
---
About the Author
Lin Lougheed is the leading authority in ESL test preparation for TOEIC, TOEFL, and IELTS. Dr.Lougheed started his EFL career in 1968 as a Peace Corps volunteer in Turkey. He earned his doctorate at Teachers College, Columbia University and has received two Fulbright awards: a scholar grant in Sri Lanka and a professor grant in Tunisia. As a Foreign Service Officer, he trained teachers and worked with Ministries of Education in Guatemala, Columbia, Haiti, Chile, Sudan, Morocco, Algeria, Tunisia, Saudi Arabia, Qatar, Uzbekistan, Ukraine, and Kazakhstan. For his publishers he has given teaching training seminars in Japan, Taiwan, Thailand, South Korea and Puerto Rico.In 1983, he founded Instructional Design International, Inc. to develop English teaching materials in all media. Lin is a past member of the TESOL Executive Board and has served as the chair of two special interest groups: Teaching English Internationally and Materials Writers. He has written over 40 English-as-a-foreign-language texts and had a daily radio show in China on business English. He is currently a Trustee of Columbia University Teachers College.

About the Publisher
In the 1930s, Manuel H. Barron opened a bookstore in Brooklyn, New York. 

People from the community asked Mr. Barron about books that might be available to help their children study for the New York State Regents exams. After realizing there wasn't anything available, Mr. Barron created his own study guides.

80 years later, Barron's has helped millions of people prepare for their next step.