Squeeze Me: A novel (Hardcover)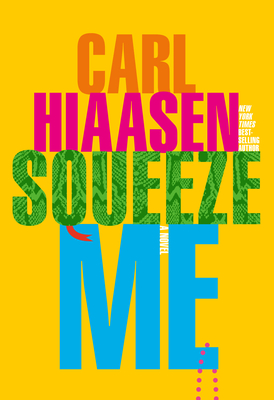 $28.95
This book is not in our store, but most are available for us to get in short order! Send us a message.
Staff Reviews
---
Jim's November 2020 pick, 2 of 3
Hiaasen is at it again: telling tales about the ridiculousness and folly of life in Florida. This time, snakes, very large snakes, have invaded Palm Beach, the playground of the wealthy and home to the Winter White House. What could possibly go wrong? A lot and most of it is funny as hell.
If you are a fan of Hiaasen's twisted tales, you know that there will be virtuous good guys and totally inept bad guys who get their due, but the highlight here are characters clearly modeled after the current POTUS and his First Lady (referred to in the book by their Secret Service code names, Mastodon and Mockingbird, respectively). It is no secret what the author thinks of the First Couple, which is what makes Squeeze Me gleeful reading.
In addition to shredding any dignity afforded the Commander-in-Chief, Hiaasen holds the moneyed elite accountable for their unabashed greed. All this in a doozy of a story. Every time I thought I knew where the author was taking me, he veered in a different direction, which was refreshing.
If you lean politically right, this may not be the book for you, but if all that matters is a riveting tale, squeeze some time in your day for Squeeze Me.
— From
Jim
Description
---
"If you could use some wild escapism right now, Hiaasen is your guy." —Janet Maslin, The New York Times
 
From the author of Skinny Dip and Razor Girl, a hilarious, New York Times best-selling novel of social and political intrigues, set against the glittering backdrop of Florida's gold coast.

It's the height of the Palm Beach charity ball season: for every disease or cause, there's a reason for the local luminaries to eat (minimally), drink (maximally), and be seen. But when a prominent high-society dowager suddenly vanishes during a swank gala, and is later found dead in a concrete grave, panic and chaos erupt. Kiki Pew was notable not just for her wealth and her jewels--she was an ardent fan of the Winter White House resident just down the road, and a founding member of the POTUSSIES, a group of women dedicated to supporting their President. Never one to miss an opportunity to play to his base, the President immediately declares that Kiki was the victim of rampaging immigrant hordes. This, it turns out, is far from the truth.

The truth might just lie in the middle of the highway, where a bizarre discovery brings the First Lady's motorcade to a grinding halt (followed by some grinding between the First Lady and a love-struck Secret Service agent). Enter Angie Armstrong, wildlife wrangler extraordinaire, who arrives at her own conclusions after she is summoned to the posh island to deal with a mysterious and impolite influx of huge, hungry pythons . . .

Carl Hiaasen can brighten even the darkest of days and Squeeze Me is pure, unadulterated Hiaasen. Irreverent, ingenious, and highly entertaining, Squeeze Me perfectly captures the absurdity of our times.
About the Author
---
CARL HIAASEN was born and raised in Florida. He is the author of fourteen previous novels, including the best sellers Bad Monkey, Lucky You, Nature Girl, Razor Girl, Sick Puppy, Skinny Dip, and Star Island, as well as six best-selling children's books, Hoot, Flush, Scat, Chomp, Skink, and Squirm. His most recent work of nonfiction is Assume the Worst, a collaboration with the artist Roz Chast.
Praise For…
---
"Carl Hiaasen remains the undefeated, unscored-upon conscience of Florida, maybe the conscience of the whole country. I laughed and laughed and laughed while I read Squeeze Me – until I remembered, hey, I live in Palm Beach! Oh yeah, spoiler alert – the python did it." —James Patterson

"By the evidence of the scabrous and unrelentingly hilarious Squeeze Me, the Trump era is truly Carl Hiaasen's moment . . . Just dive in and have a wonderful time." —Richard Lipez, The Washington Post

"Novelists, like the rest of us, can't look away from the Trump administration. Unfortunately, they haven't found much interesting to say about it. Carl Hiaasen's thriller Squeeze Me is, blessedly, an exception . . . Hiaasen is clear-eyed: He meets the president on his subterranean level . . . Squeeze Me is funny, but as with Hiaasen's best work, it's grounded in genuine outrage over the corruption that increasingly defines American political and cultural life. And it turns out there's no better place to invoke that outrage than the wealthy swamps of Florida." —Alex Shephard, The New Republic

"Pink pearls, pythons and a philandering president add up to a rather unusual Palm Beach social season in Carl Hiaasen's riotously funny new novel, Squeeze Me . . . [Hiaasen] knows and loves Florida and hates what has been done to it as much as anyone I know of, and those passions shape his razor-sharp satirical fiction." —Colette Bancroft, The Tampa Bay Times


"Squeeze Me is vintage Hiaasen — wry humor, social commentary and satire akin to Jonathan Swift, and all fun." —Oline H. Cogdill, The South Florida Sun-Sentinel