The Last Time I Lied: A Novel (Hardcover)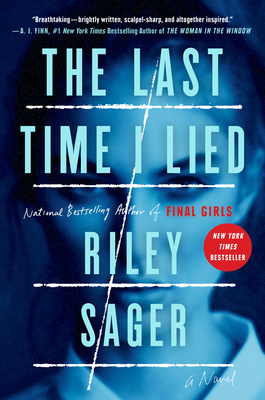 $26.00
This book is not in our store, but most are available for us to get in short order! Send us a message.
Description
---
In this New York Times bestselling thriller from the author of Lock Every Door and Final Girls, a young woman returns to her childhood summer camp to uncover the truth about a tragedy that happened there fifteen years ago.

Two Truths and a Lie. The girls played it all the time in their cabin at Camp Nightingale. Vivian, Natalie, Allison, and first-time camper Emma Davis, the youngest of the group. But the games ended the night Emma sleepily watched the others sneak out of the cabin into the darkness. The last she--or anyone--saw of them was Vivian closing the cabin door behind her, hushing Emma with a finger pressed to her lips.

Now a rising star in the New York art scene, Emma turns her past into paintings--massive canvases filled with dark leaves and gnarled branches that cover ghostly shapes in white dresses. When the paintings catch the attention of Francesca Harris-White, the wealthy owner of Camp Nightingale, she implores Emma to return to the newly reopened camp as a painting instructor. Seeing an opportunity to find out what really happened to her friends all those years ago, Emma agrees.

Familiar faces, unchanged cabins, and the same dark lake haunt Nightingale, even though the camp is opening its doors for the first time since the disappearances. Emma is even assigned to the same cabin she slept in as a teenager, but soon discovers a security camera--the only one on the property--pointed directly at its door. Then cryptic clues that Vivian left behind about the camp's twisted origins begin surfacing. As she digs deeper, Emma finds herself sorting through lies from the past while facing mysterious threats in the present. And the closer she gets to the truth about Camp Nightingale and what really happened to those girls, the more she realizes that closure could come at a deadly price.
About the Author
---
The Last Time I Lied is the second thriller from Riley Sager, the pseudonym of an author who lives in Princeton, New Jersey. Riley's first novel, Final Girls, was a national and international bestseller that has been published in more than two-dozen countries.
Praise For…
---
Praise for The Last Time I Lied

One of SheReads's Best Thrillers of 2018

"The author delivers the kind of unpredictable conclusion that all thriller readers crave—utterly shocking yet craftily foreshadowed."—The New York Times Book Review

"Sager's second thriller is as tense and twisty as [his] best-selling Final Girls (2017), but this one is even more polished, with gut-wrenching plot surprises skillfully camouflaged by Emma's paranoia and confusion, the increasingly creepy setting, and a cast of intriguingly secretive characters."—Booklist (starred review)

"Breathtaking—brightly written, scalpel-sharp, and altogether inspired. This swift, red-blooded thriller set my pulse thrumming."—A. J. Finn, #1 New York Times bestselling author of The Woman in the Window

"Sleekly written and involving... [The ending is] a startling, film-noir turn of fate."—Wall Street Journal

"Another gripping thriller...intricately interweaves the past and present...Sager remains a writer to watch."—Publishers Weekly

"An edge-of-your-seat thriller full of twists and intrigue, The Last Time I Lied had me riveted from the first page to the stunning conclusion. A fantastic read—eerie, sharp, and all-around captivating."—Megan Miranda, New York Times bestselling author of The Perfect Stranger

"A haunted summer camp. A lake darker than midnight. This chilling tale will keep you awake long after you've turned the last page."—Liv Constantine, national bestselling author of The Last Mrs. Parrish

"Gripping and intense. Riley Sager paved his literary road with Final Girls. With The Last Time I Lied he tears up the pavement. One of my favorites of 2018 so far."—J.D. Barker, international bestselling author of The Fourth Monkey and The Fifth to Die 

"Final Girls was outstanding, but dare I say it, The Last Time I Lied is a next-level thriller. Crisp writing, perfect pacing, and with tension that never lets up, Riley Sager's latest propulsive tale is a one-weekend read that will leave you chilled to the bone."—Jennifer Hillier, author of Jar of Hearts

"No review will do this book justice. The author has done a fantastic job creating a tale that leaves you breathless. If not a fan yet, read this and you will be one for life!"—Suspense Magazine

"Read under the covers with the flashlight on."—Family Circle

"A heart-pounding mystery."—Bustle

"[The Last Time I Lied] might just be the perfect summer book." —The Providence Journal 

"Need a good mystery to tide you over while you wait for season two of Big Little Lies?"—Apartment Therapy

"For book clubs that are always looking for the next Gone Girl." —Goop

"If you liked Final Girls, you will love Sager's latest novel, which is a touch better and nearly impossible to put down...Even veteran readers of psychological suspense will be blindsided by the jarring conclusion."—The Real Book Spy

"Nothing short of spectacular....Sublime writing...and through a deliciously satisfying ending, [Sager] answers each question."—Newark Star Ledger 

"Riley Sager has done it again! The Last Time I Lied hooks you in from the opening words and never releases you until the stunning conclusion. It's an ideal summer read that allows you to participate in the action and try to determine what is true and what is a lie in the face of one of the most clever and unpredictable narrators in recent memory." —Bookreporter.com

"With a terrific plot, complicated characters and exquisite writing, Sager's book is a scary movie that needs to be made." —NJ.com, Top Ten Books of 2018

"Sager strikes a pitch-perfect balance between horror elements and a lighter suspense plotline in his newest book, and the result is an endlessly entertaining summer binge-read. Pick up The Last Time I Lied for its gorgeous cover, stay for its addictive and twisty story of years-old secrets and a summer vacation gone very wrong." —Crime by the Book

"Promises to be just as good [as Final Girls] for the beach (and even better for the edge of a lake)."—CrimeReads

"The Last Time I Lied has all the earmarks of a campy Friday the 13th-type horror flick, but Sager elevates the story with a strong lead character and a grounded, realistic threat."—BookPage

"This story has so many twists and turns, the reader will be shocked by the truth of what really happened." —The Parkersburg News and Sentinel

"The Last Time I Lied …is every bit as riveting as Final Girls."—The Big Thrill

"The summer camp setting is beautifully haunting." —Woman Around Town