Foundryside: A Novel (The Founders Trilogy #1) (Hardcover)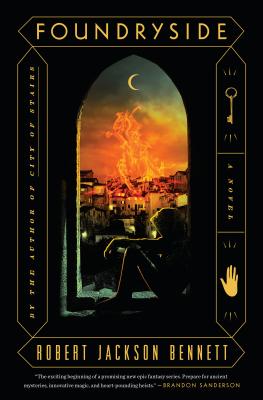 $27.00
This book is not in our store, but most are available for us to get in short order! Send us a message.
Other Books in Series
This is book number 1 in the The Founders Trilogy series.
Description
---
"The exciting beginning of a promising new epic fantasy series. Prepare for ancient mysteries, innovative magic, and heart-pounding heists."—Brandon Sanderson

"Complex characters, magic that is tech and vice versa, a world bound by warring trade dynasties: Bennett will leave you in awe once you remember to breathe!"—Tamora Pierce

In a city that runs on industrialized magic, a secret war will be fought to overwrite reality itself—the first in a dazzling new series from City of Stairs author Robert Jackson Bennett.
 
Sancia Grado is a thief, and a damn good one. And her latest target, a heavily guarded warehouse on Tevanne's docks, is nothing her unique abilities can't handle.
 
But unbeknownst to her, Sancia's been sent to steal an artifact of unimaginable power, an object that could revolutionize the magical technology known as scriving. The Merchant Houses who control this magic—the art of using coded commands to imbue everyday objects with sentience—have already used it to transform Tevanne into a vast, remorseless capitalist machine. But if they can unlock the artifact's secrets, they will rewrite the world itself to suit their aims.
 
Now someone in those Houses wants Sancia dead, and the artifact for themselves. And in the city of Tevanne, there's nobody with the power to stop them.
 
To have a chance at surviving—and at stopping the deadly transformation that's under way—Sancia will have to marshal unlikely allies, learn to harness the artifact's power for herself, and undergo her own transformation, one that will turn her into something she could never have imagined.
About the Author
---
ROBERT JACKSON BENNETT is the author, most recently, of the Divine Cities trilogy, which was a 2018 Hugo Awards finalist in the 'Best Series' category. The first book in the series, City of Stairs, was also a finalist for the World Fantasy and Locus Awards, and the second, City of Blades, was a finalist for the World Fantasy, Locus, and British Fantasy Awards. His previous novels, which include American Elsewhere and Mr. Shivers, have received the Edgar Award, the Shirley Jackson Award, and the Phillip K. Dick Citation of Excellence. He lives in Austin with his family.
Praise For…
---
A TIME, PASTE, VULTURE, AND THE VERGE "BEST FANTASY BOOKS OF 2018" PICK


"An absolutely riveting secondary world fantasy…I felt fully, utterly engaged by the ideas, actually in love with the core characters for their differences and the immensely generative friction between them, and in awe of Bennett's craft. I went to bed late reading it and woke up early to finish it. A magnificent, mind-blowing start to a series I'm hungry for."-- Amal El-Mohtar, New York Times Book Review

"An excellent first novel in what promises to be another home-run series for Bennett [featuring] expert writing, complicated and distinct characters, and an intriguing, deadly, wonderful new city where reality can be shuffled like a deck of cards, provided you can justify it." —Tor.com
 
 "An epic, breathtaking novel that's as much cyberpunk as it is fantasy…Bennett lays out a fantastic story ladened with fantastic characters, but it's his take on magic that stands out here."—The Verge

"Bennett is endlessly inventive, equally adept at conjuring Tevanne's world and magic and Sancia's troubled heart and mysterious past, not to mention a robust cast of secondary characters. Even when it's dark, this story is a joy." —Vulture 

"Funny, exciting, pacy and gory, this terrific novel promises greater things to come." —Daily Mail
 
"A compelling treatise on power and its misuse." —The Guardian

"Magic-plus-industrialization with a grimy feel, [featuring] a distinctive setting and a novel technology of magic." —The Wall Street Journal
 
"Fun, thought-provoking, and wondrous…combines the action scenes and snarky banter of a summer blockbuster with the complex characters and keen-eyed societal critique of an Oscar-winner."—Fantasy Faction
 
"A sparkling entertainment…the genre-bending story starts at a run and never lets up." —Barnes & Noble Sci-Fi & Fantasy
 
"Foundryside's main material elements — stinking canals, chatty keys, neurotic locks — aren't your typical fantasy trappings. Bennett wields them with great charm and apparent ease in order to communicate the novel's core concerns: the unfairness of inherited power and the addictive quality of wealth." —Nisi Shawl, The Seattle Times
 
"An imaginative epic that is a reading delight." —SFF World

"A stunning fantasy [from] the endlessly inventive Bennett...a crackling, wonderfully weird blend of science fiction, fantasy, heist adventure, and a pointed commentary on what it means to be human in a culture obsessed with technology, money, and power."
—Publishers Weekly (starred review)

"Mona Lisa meets The Matrix...A grand entertainment [that] inaugurates another series of imaginative, thoroughly idiosyncratic fantasy novels."
—Kirkus Reviews (starred review)

"The diverse, multifaceted characters, meticulous world building, and complex interhouse conflicts will draw readers into this new, action-packed fantasy series."
—Booklist (starred review)
 
"Intricate worldbuilding, fascinating magic, and engaging characters. More please!" 
—Felicia Day, New York Times bestselling author of You're Never Weird on the Internet (Almost)

"In Foundryside, scriving magic is the cheat code to reality, and Bennett is a master gamer. A refreshing look at magic—featuring a heroine every reader will root for—from one of the smartest writers I know." 
—Peter V. Brett, New York Times bestselling author of The Demon Cycle
 
"Inventive, immersive, and thrilling, Foundryside is a fascinating look at how our best intentions can be corrupted—and how wickedly awesome and terrifying gravity belts can be. Do yourself a favor and pick this up."
—Kevin Hearne, New York Times bestselling author of The Iron Druid Chronicles
 
"Fast-paced, intelligent, and fun with a fantastically cool magic system. I can't wait to read the next one."
—Brian McClellan, author of The Powder Mage trilogy
 
"Foundryside pulls you in with fast-paced heists, then knocks you down with its innovative magic system. Fun, thoughtful, and thrilling from cover to cover, it's sword-and-sorcery meets computer programming."
—James L. Sutter, co-creator of the Pathfinder Roleplaying Game
 
"Bennett spins a marvelous tale reminiscent of Sanderson. Foundryside is a gripping story with clever characters, intriguing plot, and spectacular worldbuilding."
—Charlie Holmberg, author of the Paper Magician series

"The best epic fantasy of the year is also the best cyberpunk of the year. How often do you get to say that?"
—Dan Wells, author of I Am Not a Serial Killer

"An irresistible, fast-paced adventure that welcomes even non-fantasy fans into its pages, unveiling a remarkable world of magic and intrigue. With non-stop twists, a compelling cast of characters, and an innovative magic system, Foundryside is an altogether terrific read."
—Sebastian de Castell, author of The Greatcoats series