What's Your Sign?: A Guide to Astrology for the Cosmically Curious (Hardcover)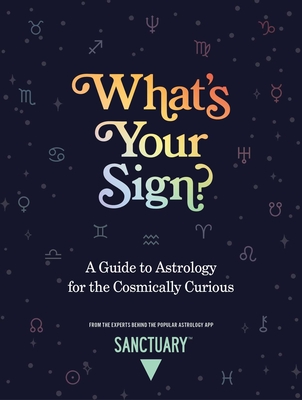 $21.99

Usually Ships in 1-5 Days
Description
---
You don't have to be famous to dance with the stars—you just need a healthy dose of cosmic curiosity. Explore astrology and dive deep into your birth chart with Sanctuary, featuring insights from the interactive app that go way beyond your horoscope.

What's your sign? It's not just a pickup line anymore, it's a whole way of looking at the world. With the explosion of astrology into popular consciousness, anyone can access the deeper meaning of the cosmos and delve into the unique and personalized insights of their birth chart. This book guides beginners and enthusiasts alike through the signs, planets, and basics of astrology, helping you understand why not every Leo is the same, and why you might be reading their horoscope wrong. Before you know it, you'll be an expert at identifying the paths to love, money, and magic that the stars hold for you.
About the Author
---
Sanctuary Ventures is the leading mystical services provider, modernizing mysticism by offering live, on-demand astrology, tarot, and psychic readings in their first-in-class interactive app. With nearly 1.5M fans on social media, they're bringing their signature humor and expertise off the screen and onto the page. In the app, anyone can connect with their cosmic curiosity and engage their intuition through free daily horoscopes, tarot cards, a detailed personal astrological profile, and more. Plus, with professional astrologers, tarot readers, and psychics available one-on-one live readings, the app is here to help you connect with what the universe has in store for you.