Emergency Contact (Paperback)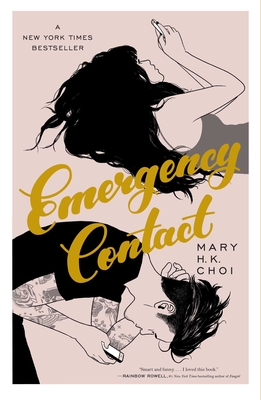 Description
---
"Smart and funny, with characters so real and vulnerable, you want to send them care packages. I loved this book." —Rainbow Rowell

From debut author Mary H.K. Choi comes a compulsively readable novel that shows young love in all its awkward glory—perfect for fans of Eleanor & Park and To All the Boys I've Loved Before.

For Penny Lee, high school was a total nonevent. Her friends were okay, her grades were fine, and while she'd somehow landed a boyfriend, they never managed to know much about each other. Now Penny is heading to college in Austin, Texas, to learn how to become a writer. It's seventy-nine miles and a zillion light years away from everything she can't wait to leave behind.

Sam's stuck. Literally, figuratively, emotionally, financially. He works at a café and sleeps there too, on a mattress on the floor of an empty storage room upstairs. He knows that this is the god-awful chapter of his life that will serve as inspiration for when he's a famous movie director but right this second the seventeen bucks in his checking account and his dying laptop are really testing him.

When Sam and Penny cross paths it's less meet-cute and more a collision of unbearable awkwardness. Still, they swap numbers and stay in touch—via text—and soon become digitally inseparable, sharing their deepest anxieties and secret dreams without the humiliating weirdness of having to, you know, see each other.
About the Author
---
Mary H.K. Choi is the New York Times bestselling author of Emergency Contact, Permanent Record, and Yolk. She is the host of, Hey, Cool Job!, a podcast about jobs and Hey, Cool Life!, a micro-pod about mental health and creativity. Her writing has been featured in The Atlantic, The New York Times,and GQ. She lives in Brooklyn, New York. Follow her on Twitter @ChoitotheWorld.
Praise For…
---
* "Choi sensitively shows the evolution of two lonely, complicated people who slowly emerge from their shells to risk an intimate relationship. Her sharp wit and skillful character development...ensure that readers will feel that they know Penny and Sam inside and out before the gratifying conclusion."
— Publisher's Weekly - starred review

"Smart and funny, with characters so real and vulnerable, you want to send them care packages. I loved this book."

— Rainbow Rowell, #1 New York Times bestselling author of Fangirl