The Science of Evil: On Empathy and the Origins of Cruelty (Paperback)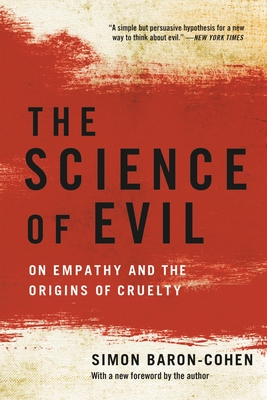 Description
---
An award-winning psychologist draws on years of research to unveil "a simple but persuasive hypothesis for a new way to think about evil." ―New York Times 

How can we explain both cruelty and kindness? To award-winning psychologist Simon Baron-Cohen, the explanation for cruelty is low levels of empathy, and the explanation for kindness is high levels of empathy. In The Science of Evil, Baron-Cohen draws on decades of research to develop a new, brain-based theory of human cruelty and kindness. He explores the social and biological factors that can influence our empathy levels, explains the key distinction between cognitive and affective forms of empathy, and shows how low empathy can lead to dehumanizing behavior. Updated with a new introduction by the author, The Science of Evil will continue to challenge our understanding of human cruelty. 
 
About the Author
---
Simon Baron-Cohen is a professor of developmental psychopathology and director of the Autism Research Centre at the University of Cambridge. He is the author of more than six hundred scientific articles and four books, including The Pattern Seekers, The Science of Evil, and The Essential Difference. He lives in Cambridge, UK. 
Praise For…
---
"
The Science of Evil
contains a huge amount of useful information for a rather short read…it's an important early step in building a more robust understanding of our species at its most horrific."—
Boston Globe
"Rigorously researched…[Baron-Cohen's] discussion of how parents can instill lifelong empathy in their children is particularly useful."—
Dorothy Rowe, The Guardian (UK)
"Attractively humane…fascinating information about the relation between degrees of empathy and the state of our brains."—
Terry Eagleton, Financial Times
"Short, clear, and highly readable. Baron-Cohen guides you through his complex material as if you were a student attending a course of lectures. He's an excellent teacher; there's no excuse for not understanding anything he says."—
The Spectator (UK)
Richard Holloway, Literary Review
"Ground-breaking and important…This humane and immensely sympathetic book calls us to the task of reinterpreting aberrant human behaviour so that we might find ways of changing it for the better…The effect…is not to diminish the concept of human evil, but to demystify it."  
Times Higher Education Supplement (UK)
"Engaging and informative."  
Marco Iacoboni, Professor, UCLA; author of Mirroring People: The Science of Empathy and How We Connect with Others
"
The Science of Evil
is a compelling journey into the ubiquitous power of empathy in our lives. The devastating effects of 'zero degrees of empathy' are masterfully described and thoroughly analyzed. Professor Simon Baron-Cohen's book shows how, with its unexpected and unsettling absence, empathy reveals its foundational role in human sociality. 
Dr. Helena Cronin, Co-Director, Centre for Philosophy of Natural and Social Science, LSE
"Bringing cruelty triumphantly into the realm of science, this pioneering journey into human nature at last delivers us from 'evil.'" 
Uta Frith, Emeritus Professor of Cognitive Development, UCL
"A compelling and provocative account of empathy as our most precious social resource. Lack of empathy lurks in the darkest corners of human history and Simon Baron-Cohen does not shrink from looking at them under the fierce light of science." 
Matt Ridley, author of The Rational Optimist
"Simon Baron-Cohen combines his creative talent with evidence and reason to make the case that evil is essentially a failure of empathy. It is an understanding that can enlighten an old debate and hold out the promise of new remedies." 
Andrew N. Meltzoff, co-director of University of Washington Institute for Learning & Brain Sciences and co-author of The Scientist in the Crib: What Early Learning Tells Us about the Mind
"What makes someone evil? What's the brain got to do with it? Baron-Cohen confronts the most urgent and controversial questions in social neuroscience. Both disturbing and compassionate this brilliant book establishes a new science of evil, explaining both its brain basis and development. Baron-Cohen fundamentally transforms how we understand cruelty in others and in so doing forces us to examine ourselves. Reading this book invites us to widen our own circle of empathy—compelling us to grow and comprehend, if not forgive."
Paul Harris, Victor S. Thomas Professor of Education, Harvard Graduate School of Education
"Simon Baron-Cohen displays once again his ability to bring science to bear on troubling and controversial issues. Arguing that we explain nothing by describing acts of wanton cruelty as evil, he explores the simple but powerful hypothesis that such acts can be traced to a distinct psychological state - a lack of empathy. He backs up his claim with a wealth of research - from developmental psychology, psychiatry, neuroscience and genetics. Those who have to deal with the aftermath of cruelty may not agree with Baron-Cohen's analysis but they will surely be informed and provoked by his boldness and originality."
Michael Gazzaniga, Professor of Psychology, University of California - Santa Barbara; author of The Ethical Brain
"Horrific crimes usually freeze the mind, leaving only a desire for retribution. Simon Baron-Cohen has taken us beyond those mental inadequacies. In this book, proposing a new way to think about evil people and empathy, he has laid the scientific groundwork for a future and brighter science of understanding the dark side of the human condition."