What the Hell Do You Have to Lose?: Trump's War on Civil Rights (Hardcover)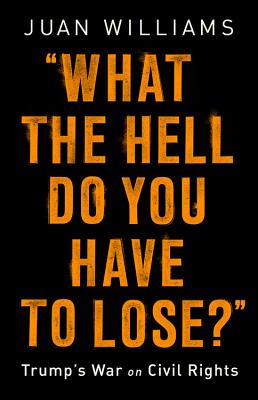 $27.00
OUT OF PRINT: Email or call for price
Staff Reviews
---
Jim's August 2019 pick, 4 of 5
It is no secret that our current Commander-in-Chief, bone spurs and all, has been called a lot of things, among them "racist." The title is a quote from candidate Trump, enlightening people of color that they should vote for him because he's just as good as any other candidate. What have they got to lose? In the book, Williams answers the question by examining the work of six people who have helped African Americans make advances in voting rights, education, housing, freedom of speech, public accommodations, and employment. By the time he is finished, Williams has spelled out clearly that African Americans, and society in general, have a lot to lose and have suffered social setbacks since Trump's inauguration.
Williams opens and ends the book examining Trump's background in real estate, recalling Trump's father's practices of refusing to rent to blacks and "the Don's" adopting of the same illegal ways. Rather than rant, which he easily could do, Williams uses facts, a lot of them, to support his observations. The stories of struggles and social successes should be enough for anyone to see that America had a lot at stake before Trump entered the Oval Office and unfortunately are watching civil rights dissolve with each passing day. Williams has hit the nail on the head with this one.
— From
Jim
Description
---
The bestselling author, political analyst, and civil rights expert delivers a forceful critique of the Trump administration's ignorant and unprecedented rollback of the civil rights movement.

In this powerful and timely book, civil rights historian and political analyst Juan Williams denounces Donald Trump for intentionally twisting history to fuel racial tensions for his political advantage. In Williams's lifetime, crusaders for civil rights have braved hatred, violence, and imprisonment, and in so doing made life immeasurably better for African Americans and other marginalized groups. Remarkably, all this progress suddenly seems to have been forgotten -- or worse, undone. The stirring history of hard-fought and heroic battles for voting rights, integrated schools, and more is under direct threat from an administration dedicated to restricting these basic freedoms.

Williams pulls the fire alarm on the Trump administration's policies, which pose a threat to civil rights without precedent in modern America. What the Hell Do You Have to Lose? makes a searing case for the enduring value of our historic accomplishments and what happens if they are lost.
About the Author
---
Juan Williams has covered and written about American politics for four decades. He is currently a columnist for the Hill, and was a longtime writer and correspondent for the Washington Post and NPR. Most notably, Juan is currently a cohost of FoxNews Channel's roundtable debate show The Five, and makes regular appearances across the network on shows like FoxNews Sunday with Chris Wallace and Special Report with Brett Baier, where he regularly challenges the orthodoxy of the network's conservative stalwarts. He is also the author of numerous books, including Eyes on the Prize, Thurgood Marshall, Enough, Muzzled, and We The People.
Praise For…
---
"A vivid and beguiling investigation on how Donald Trump is hell-bent on dismantling a large slice of America's Civil Rights heritage. This is a wake-up call for those who want to keep Dr. Martin Luther King Jr.'s dream alive. Williams, who works at Fox News, is taking a brave stance in these pages. Highly recommended!"—Douglas Brinkley, professor of history at Rice University and author of Rosa Parks

"A cogent response from a veteran journalist... His skillful succinctness makes his anti-Trump commentaries often devastating... [A] relevant and well-grounded book."—Kirkus Reviews

"Juan Williams has written an important and timely book on the future of
civil rights and equal justice under the law. Williams, an eyewitness to
history, warns us to 'stay woke' in the era of Trump. Otherwise, we might find
the moral arc of our history suddenly bending backwards."—Donna Brazile, former Interim Chair of the Democratic National Committee

"This book skillfully combines observations of the current state of
politics and race relations with insights from the long, and sometimes
forgotten, history of the civil rights movement. With decades of hard-won
progress under threat, Juan Williams reminds us that knowing our past is
essential if we are to understand our present, and shape our future."—Vernon Jordan, civil rights leader, attorney, and former head of theNational Urban League

"Like a finely-honed fact-based scalpel in the hands of a skilled
surgeon, Juan Williams carefully examines the pillar achievements of African
Americans in our nation since Slavery and our Civil War.... A chilling,
fact-based recital of just how much African Americans are losing and could lose
under President Trump."—Dr. Clarence B. Jones, former political advisor, lawyer, andspeechwriter to Dr. Martin Luther King Jr., and adjunct professor, Universityof San Francisco

"In this challenging time, when the echoes of past injustices linger
just beneath the surface waiting to burst forth like a broken dam, we must
understand the consequences at hand. Juan Williams takes us chapter and verse
through the incredible sacrifices, struggles and progress of the civil rights
movement and what is now at stake for all Americans: freedom, liberty and
justice- for all."—Mitch Landrieu, former mayor of New Orleans

"By contrasting the Trump administration's blatant attempts to rewrite history to suit their goals with accounts of what really happened, Williams highlights the current administration's total lack of regard for African Americans. It's a powerful and effective structure; a call-and-response demonstrating the bleak parallels between today and past decades and the razor-thin line we walk to avoid returning to a past of intolerance. Williams' book shows not only that progress can be easily lost but also highlights the slow, painful successes of the civil rights movement, and how depressingly small some of its victories seem. Thanks in no small part to its author's writing, What the Hell Do You Have to Lose? is a civil rights lesson that's needed now more than ever before."—Anna Sheffer, Medium