Grit, Grace, and Gold: Haiku Celebrating the Sports of Summer (Paperback)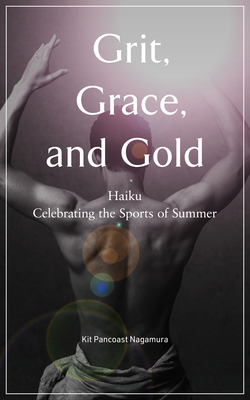 $16.95

Usually Ships in 1-5 Days
Description
---
Original, contemporary haiku celebrating the sports and athletes of the Olympics - from an acclaimed poet and an international gallery of guests.

Award-winning haiku poet Kit Pancoast Nagamura offers a collection of original poems that explore the beauty, physical effort, and essence of all the sports of the summer Olympics.

At first glance, haiku and sports may seem like an odd pairing. But actually, there's a strong similarity between the two. The grace, balance, and focus that are required of an athlete are exactly what the haiku poet seeks in order to capture an emotion, a mood, an action in just a few, carefully chosen words.

Anticipation of the 2020 Tokyo Olympics is building -- and what better way to share in the experience of the games than through Japan's beloved poetic form, haiku, which has been rediscovered and embraced in recent years by a new generation. From the elegance of a gymnast's leap and the fluid motion of a runner's body, to the thwump of the soccer ball hitting the net, poetry lovers and sports fans alike will feel the thrill and intensity as the world's best go for the gold.

In this volume, the first to cover such a wide range of athletics, each Olympic sport is represented by three haiku written by Nagamura, plus one or two by a guest poet. Each poem is presented in both English and Japanese. Evocative photographs and illustrations complement the text.
About the Author
---
An award-winning haiku poet and photographer, Kit Pancoast Nagamura was born in the U.S. and studied at Brown University, University of Michigan (M.A.), and University of Wisconsin-Milwaukee (Ph.D.). She has lived in Japan for over 20 years. Nagamura has won numerous accolades for her haiku, including an Ito-en Oicha Award of Excellence, Award of Excellence for Matsuyama's Setouchi International Haiku Contest, an O Miami Poetry Award; and has won three consecutive Honorable Mentions in the Tokutomi Haiku Contest held by the Yuki Teikei Haiku Society. She hosts NHK World's Haiku Masters program, which airs around the world. In addition, she gives workshops, and serves as a judge for the Golden Triangle Haiku Contest in Washington, D.C., among others. Nagamura is the co-author of Kodansha's The Ultimate Japanese Phrasebook.
Praise For…
---
"Sports is the art of the human condition, trained to physical and mental perfection. Haiku is the refined art of language, polished to pursue the ultimate cosmos. The symphony of sports and haiku in this book will lead readers to a new way of understanding the world."
—Masako Kakutani, Board of Directors for the Society of Haiku Poets, and the Haiku International Association
 
"[Nagamura's] eye, that of a poet and photographer, has celebrated athletic events with splendid examples of 'the haiku moment.' This book will surely give you a new view of the haiku world—dynamic, youthful, and full of power.
—Marie Mariya, Executive committee member of the Haiku International Association, and a member of the Association of Haiku Poets
 
"Fresh, insightful and often surprisingly humorous, Nagamura's haiku skillfully capture the essence of each sports…Although the Tokyo 2020 Olympics has now been postponed, this collection of sports haiku remains a winner."
—Louise George Kittaka, The Japan Times