I Am Today (Hardcover)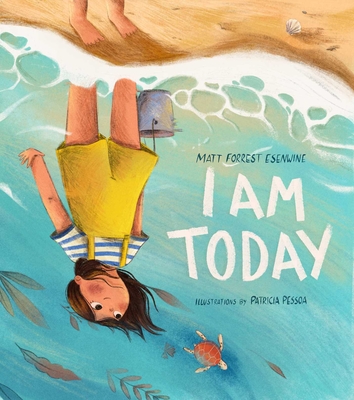 Description
---
A young girl realizes that she doesn't have to wait until she's grown-up to stand up for what is right and make a big impact.

While playing on the beach in her coastal town, a young girl comes across a sea turtle ensnared by a wire. Her town is home to a factory that has provided jobs for many of her neighbors, including her mother, but it has also been dumping garbage from a pipe into the waters, threatening the creatures that live in them.

Children are used to being asked what they'll do and be when they grow up, but the girl knows there is so much she can do today to help. Unable to forget the sight of the struggling turtle, with a fantastic act she inspires the townspeople to compel the factory to change its destructive ways.

Written in spare and evocative poetry, I Am Today is an empowering story for children who want to be the change the world needs.
About the Author
---
Before he found his calling as a children's author, Matt Forrest Esenwine spent a good part of his life writing poetry, which was published in various national journals and anthologies including the Donald Hall tribute, Except for Love (Encircle, 2019). Then his debut picture book, Flashlight Night (Boyds Mills & Kane, 2017), received a Kirkus starred review and was selected by the New York Public Library as one of the Best Books for Kids 2017 – and he never slowed down! Matt has 10 other books to his credit, and his children's poetry can be found in anthologies like The National Geographic Book of Nature Poetry (National Geographic Children's Books, 2015) and Night Wishes (Eerdmans, 2020), as well as "Highlights for Children" magazine. Connect with Matt at MattForrest.com.

Patricia Pessoa grew up in Rio de Janeiro, Brazil, where as a child she began her illustration career by making free drawings for friends in school. Years later she graduated from The Federal Rural University of Rio de Janeiro with a degree in Fine Arts, focusing on what she enjoyed the most, children's book illustrations. Currently Patricia lives in England, and her hobbies include embroidery, ceramics, video games and annoying her cat.
Praise For…
---
"Flawless rhymes and stunning illustrations…A wonderful book that should be in every home, classroom and library!"
— The Momma Spot / Future Bookworms

"This inspiring, heartfelt picture book literally gave me goosebumps with its hopeful message."
— Marianne Knowles, author and STEM Curriculum Coordinator at the Museum of Science, Boston

"[The book] brings to mind that every child is unique and has a VOICE. Hopefully, it will find cozy corners in bedrooms and reading/writing stations in classrooms."
— Carol Varsalona, literacy advocate and Wonder Lead Ambassador for Wonderopolis

"An absolute delight...Love, love, love it!"
— Brian Gehrlein, author of THE BOOK OF RULES (Farrar, Straus and Giroux, 2022)