Real Sorcery: Strategies for Powerful Magick (Strategic Sorcery Series) (Paperback)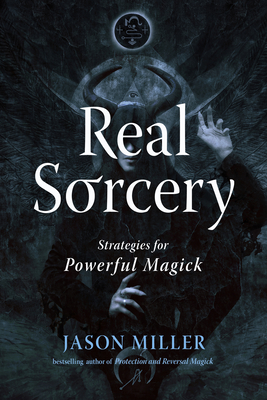 Description
---
"If you're interested in assuring that you obtain real tangible results with your spells and are willing to put the work into doing so, this is definitely the book for you. Completely filled with some amazing insights, ideas, and tips that come from experience. [Miller's] ideas are some that I've never seen in other books. This book alone completely changed how I approach giving offerings to spirits and deities." —Mat Auryn, author of Psychic Witch
This book is about real magick, effecting real change, in a real world. There are some books on magick that teach it purely as spiritual advancement. There are others that teach it as a form of psychological self-help that affects only inner change. While magick can and should be both of these, it is something more.
Real Sorcery
is about success in practical magick; it is a book that aims at change in both the outer and inner worlds.  
Beyond a mere spell book or training course,
Real Sorcery
is a field manual on successful sorcery written by a professional sorcerer. The first part of the book lays out the qualities, concepts, and exercises necessary to attempt practical magick. The second part presents clear strategies for tackling almost any type of issue with sorcery.  
In this book you will learn how to:
Attack problems from multiple angles, not just by casting a spell
Blend mundane and magical action to ensure success
Figure out whether what you are doing is working, and fix it if it isn't
Go beyond readings, into magical intelligence-gathering
Influence the minds of other people
Work most effectively on behalf of others
This book was previously published as
The Sorcerer's Secrets
by New Page Books in 2009. This edition features a new introduction from the author, one new chapter, and updates throughout.    
About the Author
---
Jason Miller has devoted twenty-five years to studying practical magic in its many forms. He has traveled to New Orleans to study hoodoo, Europe to study witchcraft and ceremonial magick, and Nepal to study tantra. Miller is a member of the Chthonic Ouranian Temple and the Sangreal Sodality, as well as an initiated Tantrika in the Nyingma and Bon lineages of Tibet. Miller is the author of the now classic Protection and Reversal Magick as well as The Sorcerer's Secrets, The Elements of Spellcrafting, Sex Sorcery and Spirit, and Financial Sorcery. He also runs the Strategic Sorcery Training Course, Take Back Your Mind Program, and the Sorcery of Hekate Training. Find out more at StrategicSorcery.net.
Praise For…
---
"If you're interested in assuring that you obtain real, tangible results with your spells and are willing to put the work into doing so, this is definitely the book for you. Completely filled with some amazing insights, ideas, and tips that come from experience. [Miller's] ideas are some that I've never seen in other books. This book alone completely changed how I approach giving offerings to spirits and deities." 
—Mat Auryn, author of Psychic Witch

"Jason Miller embodies the wise teacher who blends his vast knowledge of the esoteric with excellent structure, infused with his wry humor. You'll feel personally guided by a masterful sorcerer who's taken the considerable time to review and update his teachings, thus providing the reader with both the foundational lessons and a deeper understanding."
—Cyndi Brannen, author of Entering Hekate's Cave, Entering Hekate's Garden, and Keeping Her Keys 
 
"Jason's teachings are mandatory for new occultists who want to understand tradition, but also practice methods. This book is a great mix of education and also step-by-step ways to start bringing powerful magic into your modern life."
—Chaweon Koo, author of Spell Bound: A New Witch's Guide to Crafting the Future
 
"This new edition, [previously titled The Sorcerer's Secrets] with its additional context and commentary, brings a mature wisdom and twenty-first century outlook to what was already an outstanding book. It is a true classic. I am delighted to be able to recommend Real Sorcery to a new generation of magicians." 
—Sara Mastros, author of The Sorcery of Solomon

"Jason Miller is one of the most important voices in magick today and this updated book is an important work. It's more than a manual on magick—it's a manual on how to succeed at magick."
—Bob Freeman, an occult detective