The Peanuts Papers: Writers and Cartoonists on Charlie Brown, Snoopy & the Gang, and the Meaning of Life: A Library of America Special Publication (Hardcover)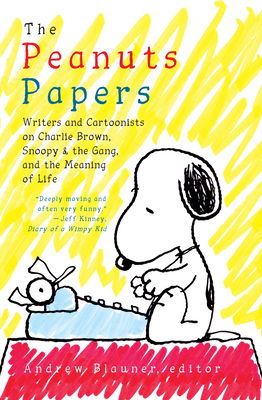 Staff Reviews
---
Jim's November 2019 pick, 2 of 2
If you remember that happiness is a warm puppy, or use a "wah-wah-wah" voice to mimic an adult speaking, or know what a kite-eating tree is, or a Charlie Brown Christmas tree, for that matter, this book is for you. I grew up with the Peanuts gang. Needless to say, I took to this book like Linus to his blanket.
The Peanuts Papers made me realize just how much Charles Schulz's comic strip kids influenced me (optimistic Charlie Brown = me). And, I never considered just how "deep" the Peanuts strips are, but the authors demonstrate the varied intellectual characteristics of Schulz's work time and again. Some essays, however, are bit too academic for my tastes. I thought that I was reading about a bunch of little kids and a beagle - silly me. The essays here also made me sad for the children of today who know Peanuts only from advertisements or the giant Macy's Thanksgiving Parade Snoopy balloon. Perhaps that explains why our society is in its current state. I don't know, but I am sure that if you are a fan of Charles Schulz and Peanuts, you will love this book.
— From
Jim
Description
---
A one-of-a-kind celebration of America's greatest comic strip--and the life lessons it can teach us--from a stellar array of writers and artists

Over the span of fifty years, Charles M. Schulz created a comic strip that is one of the indisputable glories of American popular culture—hilarious, poignant, inimitable. Some twenty years after the last strip appeared, the characters Schulz brought to life in Peanuts continue to resonate with millions of fans, their beguiling four-panel adventures and television escapades offering lessons about happiness, friendship, disappointment, childhood, and life itself. 

In The Peanuts Papers, thirty-three writers and artists reflect on the deeper truths of Schulz's deceptively simple comic, its impact on their lives and art and on the broader culture. These enchanting, affecting, and often quite personal essays show just how much Peanuts means to its many admirers—and the ways it invites us to ponder, in the words of Sarah Boxer, "how to survive and still be a decent human being" in an often bewildering world. Featuring essays, memoirs, poems, and two original comic strips, here is the ultimate reader's companion for every Peanuts fan.

Featuring:

Jill Bialosky 
Lisa Birnbach 
Sarah Boxer
Jennifer Finney Boylan 
Ivan Brunetti 
Hilary Fitzgerald Campbell 
Rich Cohen 
Gerald Early 
Umberto Eco
Jonathan Franzen 
Ira Glass
Adam Gopnik 
David Hajdu 
Bruce Handy 
David Kamp 
Maxine Hong Kingston
Chuck Klosterman 
Peter D. Kramer 
Jonathan Lethem 
Rick Moody 
Ann Patchett 
Kevin Powell
Joe Queenan
Nicole Rudick 
George Saunders 
Elissa Schappell 
Seth 
Janice Shapiro 
Mona Simpson 
Leslie Stein 
Clifford Thompson 
David L. Ulin 
Chris Ware
About the Author
---
Andrew Blauner, editor, is the founder of Blauner Books Literary Agency. His other anthologies are Coach, Brothers, Central Park, Our Boston, The Good Book, In Their Lives: Great Writers on Great Beatles Songs, and (as co-editor) For the Love of Baseball.
Praise For…
---
2020 Eisner Award Nominee

NPR Best Book of 2019

Pop Matters Best Book of 2019

"If you obsessed over the comic strip Peanuts as a child — I mean: You lived and died with those characters . . . hark, the herald angels sing: You are not alone!" —James Rosen, National Review

"This charming, searching book . . . is one of the more spiritual books I've read in years." —John Williams, The New York Times

"Deeply personal and often moving, The Peanuts Papers shine a light on the enormous impact the work of  Charles M. Schulz has had on a generation of writers and artists . . . and on the world as a whole." —Jeff Kinney, author of Diary of a Wimpy Kid

"The Peanuts Papers supports the idea that we return to Peanuts for the depth and the recognition and the truth — and sometimes simply because, as [Kevin] Powell writes in reference to his own depression, Schulz and Peanuts still have the capacity to bring us 'tremendous happiness to this very day.'"  — Michael Cavna, The Washington Post

""Peanuts" was one of the most influential American comics. A new collection of meditative, charming essays explores the strip's cultural impact." — Christian Science Monitor 

"A heartwarming tribute to Schulz's inimitable strip and the influence it had on its everyday audience." —Publishers Weekly (Starred Review)

"Anyone who enjoyed the comics or TV specials will recognize their experiences in these pages and have their appreciation of Schulz's genius renewed." —Library Journal (Starred Review)

"Top-flight...Essential reading for Peanuts fans and an appealing collection of personal writing for any reader." —Kirkus Reviews

"A diverse and illustrious line-up of authors, whose thoughtful and heartfelt accolades attest to Schulz's enduring vision and his strip's abiding place in American culture." — Booklist

"Reading this book was like finding a lost album of childhood photographs. It's an unexpected powerhouse of a book, and if Peanuts was part of your childhood, it will knock you out." --Caitlin Flanagan

"Good grief! Who knew that a mere ( if admittedly great) comic strip, could inspire such great writing? The Peanuts Papers is an anthology unlike any other, to be treasured and earmarked." —Daphne Merkin

"Writers of every age and stripe bring their own memories and imaginations to this classic strip—and in so doing so, show just how much they were inspired by it."  —Cullen Murphy