Solitary: A Novel (Solitary Tales #1) (CD-Audio)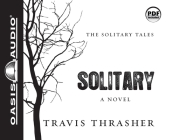 Other Books in Series
This is book number 1 in the Solitary Tales series.
Description
---
His loneliness will soon turn to fear…. When Chris Buckley moves to Solitary, North Carolina, he faces the reality of his parents' divorce, a school full of nameless faces—and Jocelyn Evans. Jocelyn is beautiful and mysterious enough to leave Chris speechless. But the more Jocelyn resists him, the more the two are drawn together. Chris soon learns that Jocelyn has secrets as deep as the town itself, secrets more terrifying than the bullies he faces in the locker room or his mother's unexplained nightmares. He slowly begins to understand the horrific answers. The question is whether he can save Jocelyn in time. This first audio book in the Solitary Tales series will take you from the cold halls of high school to the dark rooms of an abandoned cabin—and remind you what it means to believe in what you cannot see.
About the Author
---
The author of a dozen works of fiction, including Isolation and Ghostwriter, Travis Thrasher has been writing since he was in the third grade. His writing is known for its honesty, depth, and surprising twists. Thrasher lives with his wife and daughter near Chicago.
Praise For…
---
"The first in the Solitary Tales series draws listeners into the frightening story of Chris Buckley, a troubled youth from a broken family who has just moved into a town full of secrets. There he meets beautiful Jocelyn Evans, whose life is also full of mysteries. Narrator Kirby Heyborne brings this Christian thriller to life with an emotional detachment that contrasts with nightmarish story. His even-toned voice forces the listener's involvement and provides a thrilling experience. Don't listen in the dark." 
J.E. © AudioFile Portland, Maine