Instruction and Assessment for Struggling Writers: Evidence-Based Practices (Challenges in Language and Literacy) (Paperback)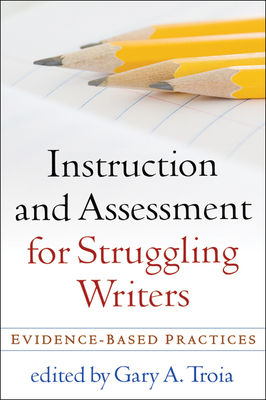 $49.00

Usually Ships in 1-5 Days
Description
---
This unique book focuses on how to provide effective instruction to K-12 students who find writing challenging, including English language learners and those with learning disabilities or language impairments. Prominent experts illuminate the nature of writing difficulties and offer practical suggestions for building students' skills at the word, sentence, and text levels. Topics include writing workshop instruction; strategies to support the writing process, motivation, and self-regulation; composing in the content areas; classroom technologies; spelling instruction for diverse learners; and assessment approaches. Every chapter is grounded in research and geared to the real-world needs of inservice and preservice teachers in general and special education settings.
About the Author
---
Gary A. Troia, PhD, CCC-SLP, is Associate Professor of Special Education at Michigan State University, where he is also a Principal Investigator with the Literacy Achievement Research Center. He was a faculty member at the University of Washington in Seattle before assuming his current position at Michigan State. Prior to receiving his doctorate from the University of Maryland in 2000, he worked for 10 years in the public schools as a special educator and speech-language pathologist, and for 6 years as a university clinical supervisor. Dr. Troia is a consulting editor for several journals, including Exceptional Children,  Journal of Learning Disabilities , and  Learning Disability Quarterly , and is an associate editor of  Language, Speech, and Hearing Services in Schools . He has written over two dozen research papers and book chapters and has given numerous presentations about his work in the areas of phonological processing, writing assessment and instruction, and teacher professional development in literacy.
Praise For…
---
"This is the first book to focus on writing instruction and assessment for students with learning challenges. It is a timely and valuable resource for teachers and researchers. I look forward to using this book as a text in my undergraduate courses and graduate seminars in literacy instruction for students with special needs."--Linda H. Mason, PhD, Department of Educational and School Psychology and Special Education, Pennsylvania State University
"An especially practical resource, the book combines accessible summaries of research evidence on a variety of topics in writing with how-to ideas that can be implemented right away by a motivated clinician or teacher. Without giving short shrift to research, the contributors devote ample attention to the instructional needs of struggling writers and those who work with them."--Kenn Apel, PhD, CCC-SLP, Department of Communication Disorders, Florida State University
"This unique book combines advice on writing instruction and assessment for students with varying learning profiles--those with learning disabilities and language impairments as well as multilingual learners. Chapters present new theories and conceptual frameworks, and recent research. This is an appropriate text for advanced education courses. College and university instructors will have a wide array of chapters to choose from for their teaching."--Susan De La Paz, PhD, Department of Special Education, University of Maryland
"A valuable text....The greatest strength of this book is its research base. Extensive reviews of the research in the areas that are addressed are presented along with lengthy lists of references at the end of each chapter."
— NASP Communiqué
"Provides a very welcome addition to what is a rather sparse landscape of quality publications on what has often been described as the 'most neglected of the three R's'....Brings together the collected wisdom of an admirable array of writers and researchers from the USA to address various aspects of writing instruction and assessment. Troia's own credentials make him uniquely qualified to edit this valuable reference."
— REACH Journal of Special Needs Education in Ireland