What to Do When Your Child Isn't Talking: Expert Strategies to Help Your Baby or Toddler Talk, Overcome Speech Delay, and Build Language Skills for Life (Paperback)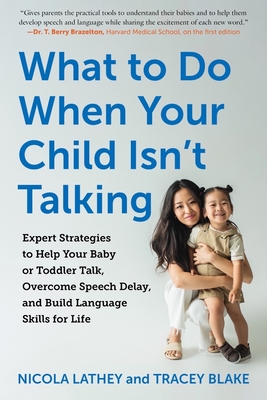 Description
---
Help your little one overcome childhood speech delay—with expert guidance and simple strategies you can use at home!
For parents of young children, speech milestones are monumental—from baby babble to first words to full sentences. It's natural to worry when they don't arrive "on schedule" or when your little one seems to lag behind their peers.
In
What to Do When Your Child Isn't Talking
, speech and language therapist Nicola Lathey and journalist Tracey Blake offer parents much-needed reassurance and solutions—at a moment when speech delay and regression is more common than ever. Organized by major milestones from birth to age four, this don't-panic guide will empower you to:
Identify early signs of speech delay and possible causes— "glue ear," tongue tie, suspected autism, or simply your child's individual pace of learning.
Help your child practice specific speech sounds and words that they find tricky with fun activities, from classic clapping games to filling a "story sack."
Get to the root of toddler tantrums, chronic shyness, unclear speech, stuttering, social anxiety, and other issues stunting your child's self-expression.
Communicate better with your child, and watch them thrive!
Publisher's note:
 What to Do When Your Child Isn't Talking
 is an updated and revised edition of 
Small Talk.
About the Author
---
Nicola Lathey is a pediatric speech and language therapist specializing in children under five and the founder of the Owl Centre, which provides assessment and therapy services to children and adults across the whole of the UK. She lives in Cheltenham, England.

Tracey Blake is a Daily Mail journalist and editor turned ed-tech entrepreneur who's passionate about early learning and child development. She has two kids and lives in Buckinghamshire, England.
Praise For…
---
National Parenting Publications Awards (NAPPA) Parenting Resources Competition, Silver Award (Education category)
 
"Full of resources and suggestions, this book is an easy-to-use reference."—Library Journal

​"In a fun, down-to-earth style, [What to Do When Your Child Isn't Talking] gives parents the practical tools to understand their babies and to help them develop speech and language while sharing the excitement of each new word."—Dr. T. Berry Brazelton, Professor of Pediatrics, Emeritus, Harvard Medical School
 
"[What to Do When Your Child Isn't Talking] is a must-read for parents keen to help their child express themselves from the get go. I can't recommend it enough."—Gurgle magazine
 
"Written in a no-nonsense, easy-to-understand way, [What to Do When Your Child Isn't Talking] fills a gap in an otherwise saturated market by providing parents with all the advice they need to specifically encourage and stimulate the natural stages of language development in those crucial formative years."—Babyworld.co.uk
 
"Engagingly written, largely from a parent's perspective, this book is certainly worth directing your parents to if they want to gain a solid understanding of speech and language development and 'tune in' to their own children's needs."—Nursery World, the UK's leading magazine and website for practitioners and decision-makers across the early years education and childcare sectors
 
"Forget goo goo ga ga, to encourage your baby to be a fast and confident talker, you need to ditch the baby talk and start conversations—right from the start."—uk.lifestyle.yahoo.com