In Other Lands (Paperback)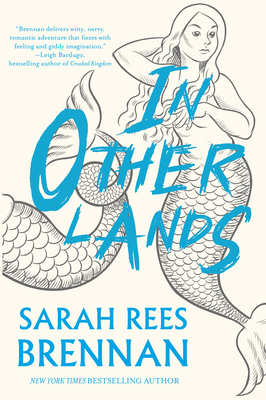 $16.00

Usually Ships in 1-5 Days
Staff Reviews
---
Fal's August 2021 pick, 2 of 2
Snarky, slightly obnoxious thirteen-year-old Elliot Schafer's world broadens when he's brought to the borderlands, a world that borders his own yet is filled with fantastical creatures and magic. There, he befriends the lovely elf maiden, Serene-Heart-In-The-Chaos-Of-Battle, and the popular borderland native, Luke Sunborn. The three become an odd trio of friends, Elliot running his mouth to fight for them, and them fighting for Elliot when his mouth gets him in trouble.
Together, they attend the four-year institution meant to create warriors, except Elliot is a pacifist, refusing to touch a blade, using unorthodox ways to prove that fighting isn't always the only way to win a war.
As Elliot grows from bratty thirteen-year-old to outspoken seventeen-year-old, secrets of his past are finally unearthed, and his jaded heart finds love in the place he least expects.
In Other Lands is a fantastic coming-of-age tale that turns gender on its head, explores teenage angst in all its dramatic glory, and shows that even the greatest friendship can overcome the greatest heartbreaks.
— From
Fal
Description
---
Georgia Peach Award Nominee
Florida Teens Read Award Nominee
ABC Best Books for Young Readers
Bank Street College Best Children's Books of the Year
A Junior Library Guild Selection
Hugo & Locus award finalist
The Borderlands aren't like anywhere else. Don't try to smuggle a phone or any other piece of technology over the wall that marks the Border -- unless you enjoy a fireworks display in your backpack. (Ballpoint pens are okay.) There are elves, harpies, and -- best of all as far as Elliot is concerned -- mermaids.
"What's your name?"
"Serene."
"Serena?" Elliot asked.
"Serene," said Serene. "My full name is Serene-Heart-in-the-Chaos-of-Battle."
Elliot's mouth fell open. "That is badass."
Elliot? Who's Elliot? Elliot is thirteen years old. He's smart and just a tiny bit obnoxious. Sometimes more than a tiny bit. When his class goes on a field trip and he can see a wall that no one else can see, he is given the chance to go to school in the Borderlands.
It turns out that on the other side of the wall, classes involve a lot more weaponry and fitness training and fewer mermaids than he expected. On the other hand, there's Serene-Heart-in-the-Chaos-of-Battle, an elven warrior who is more beautiful than anyone Elliot has ever seen, and then there's her human friend Luke: sunny, blond, and annoyingly likeable. There are lots of interesting books. There's even the chance Elliot might be able to change the world.
In Other Lands is the exhilarating new book from beloved and bestselling author Sarah Rees Brennan. It's a novel about surviving four years in the most unusual of schools, about friendship, falling in love, diplomacy, and finding your own place in the world -- even if it means giving up your phone.
About the Author
---
Sarah Rees Brennan was born, raised, and lives in Ireland. She is the New York Times bestselling author of Tell the Wind and Fire, the Lynburn Legacy series, and Season of the Witch (The Chilling Adventures of Sabrina, Book 1), among others.