Living Lunarly: Moon-Based Self-Care for Your Mind, Body, and Soul (Hardcover)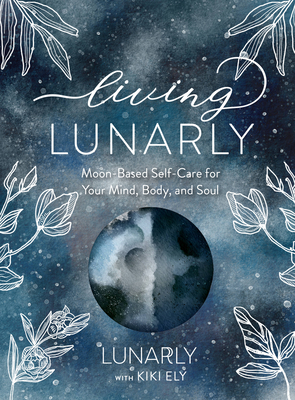 Description
---
Living Lunarly is the nature-inspired self-care book powered by the cycles of the moon.
As you follow the lunar cycle, you'll set monthly intentions, explore plant care, crystals, and meditation, and find new emotional strength in aligning with nature.
Never has the idea of mindfully checking in with yourself and creating a "whole body" health—health that is more than simply the absence of illness—been so appealing. This book reveals how introspection, ritual, and love can help you lead a more spiritually fulfilling life.
You will learn how to use the phases of the moon to guide you in your intention-setting practice. As the moon waxes and wanes, use it to set a path of persistent self-reflection. Suggested practices and exercises for 12 moons across the year echo the seasonal properties of each moon. For each of the 12 moons, you'll find a unique ritual or exercise for every lunar phase, from new moon to waning crescent. These include:
Intention-setting rituals connected to the new moon and full moon
Exercises centered around growth, including plant care and other rituals rooted in nature
Meditation and breathwork to help you calm and ground yourself
Tips for nourishment, deep sleep, and beauty rituals to celebrate your body
Journaling prompts to help you explore your monthly intention
Other techniques to help you process your emotions and give and receive loving-kindness in everyday life

By following the book through the moons of the year, you'll gain a natural sense of the powers and properties of each season and phase of the moon, and of which rituals and practices resonate most deeply with you. As you incorporate these practices into the rhythm of your days, you'll find yourself moving in greater harmony with natural cycles, and benefiting from your deepening connection to the world around you.
Living Lunarly gives you an accessible yet thorough guide to creating a self-care practice linked to the lunar cycle that is meaningful, individual, and powerfully healing.
About the Author
---
From the start, Lunarly's goal was to draw together a community under the moon above. They knew there were other people out there who cared about setting intentions, connecting with nature, and finding meaningful ways to restore their spirit. Today their community is thousands strong and while it takes many forms, Lunarly remains a place to explore, learn, and share in a journey together. Everything Lunarly makes has an intention behind it. They began with their monthly self-care boxes themed to the new moon, and filled them with carefully selected plants, candles, crystals, and the like. As they've grown and expanded their offerings, their enthusiasm has grown too. The resounding response from people around the globe bolsters Lunarly's commitment to make all they do significant and useful. Lunarly welcomes all readers to join the Lunarly community online and at home. Come join our community group on Facebook. If you're interested in receiving or gifting a monthly New Moon Box, full of surprises for the month ahead, visit Lunarly.com.
Kiki Ely is a former attorney and event designer who decided to pursue a more fulfilling, connected, authentic life. She is a self-care, mindset, and beauty curator, an influencer, blogger, and author. She speaks regularly at various conventions, retreats, workshops, and on podcasts. She also coaches individuals and businesses seeking alignment, balance, and truth every day. She believes that all people deserve to live lives that fully express who they truly are.