The Rebel and the Thief: A Novel (Paperback)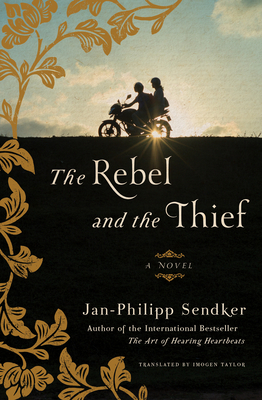 Description
---
From the internationally bestselling author of The Art of Hearing Heartbeats, a moving tale of forbidden love and extraordinary courage in the face of disaster.

Eighteen-year-old Niri and his family live a modest but secure life working in the villa of the wealthy Benzes. But when the pandemic comes, they are all let go, and left staring into the abyss of abject poverty. As their situation grows increasingly desperate, the once rule-abiding monastery student decides he won't wait at the mercy of a corrupt, indifferent government, and rebels against his father's resigned acceptance.
Sneaking through the locked-down city at night, past the military patrols, Niri returns to the villa to take what his family needs to survive. Waiting for him there is his childhood friend—and the Benzes' daughter—Mary, who has a bigger plan that will change their lives forever.
A universal story of love across social classes, The Rebel and the Thief poignantly shows how adversity can teach us what matters most: courage to resist, will to change, and unconditional trust in each other.
About the Author
---
Jan-Philipp Sendker, born in Hamburg in 1960, was the American correspondent for Stern from 1990 to 1995, and its Asian correspondent from 1995 to 1999. In 2000 he published Cracks in the Wall, a nonfiction book about China. The Art of Hearing Heartbeats, his first novel, became an international best seller, and was followed by two sequels, A Well-Tempered Heart and The Heart Remembers. He lives in Potsdam with his family.

Imogen Taylor was born in London in 1978 and has lived in Berlin since 2001. She is the translator of Sascha Arango, Dirk Kurbjuweit, and Melanie Raabe, among others. Her translation of Sasha Marianna Salzmann's Beside Myself (Other Press, 2020) was short-listed for the 2021 Helen & Kurt Wolff Translator's Prize and the 2020 Schlegel-Tieck Prize.
Praise For…
---
"An epic love story between two people against astronomical odds. Universal in scope, stunning, powerful, and radiant in execution. The fight that both Niri and Mary must undertake for their survival is inextricably woven into their fight for love. I fell hard for this pair of compassionate misfits. I was with them every step of the way." —Weike Wang, author of Joan Is Okay

"In The Rebel and the Thief, Sendker's lush storytelling captures courage and sacrifice against the greatest of odds as Niri and Mary, young lovers from different worlds, embark on a journey of selflessness and survival. This modern-day Robin Hood story captivates the most thoughtful readers, reminding us that hope is not lost and there is always good in the world." —Rochelle B. Weinstein, bestselling author of When We Let Go

"A love story, a coming-of-age novel, and a call to action. The Rebel and the Thief is a compelling tale of our time set during a global pandemic in a nonspecific location. Its themes are universal even though we see the specific impact of the disease on one young man. He is confronted with the moral challenge that all people face on planet Earth: accept the suffering brought about by humanmade systems of oppression and privilege—or break the rules to alleviate some of that suffering. As in life, there are no simple answers in this story, only difficult choices to be made." —Laila Ibrahim, bestselling author of Yellow Crocus

Praise for The Art of Hearing Heartbeats:

"A lush tale of romance and family set in mid-twentieth-century Burma...beautiful...bound to enchant readers." —Booklist

"Magical...It's stories like The Art of Hearing Heartbeats that show how our very existence is important...What a gift that is." —Huffington Post

"Brilliant...Sendker's novel proves to be a love story of the most masterful variety...Coupled with an unusual glimpse into the Burma of the 1950s and today, readers will delight in the emotional power of Sendker's storytelling." —Shelf Awareness

"No matter what I even attempt to say, I can't possibly capture the absolute magic of this book. Like a spell, it haunts. Like love, it's going to endure." —Caroline Leavitt, New York Times bestselling author of Pictures of You