How I Feel: Grief Journal for Kids: Guided Prompts to Explore Your Feelings and Find Peace (Paperback)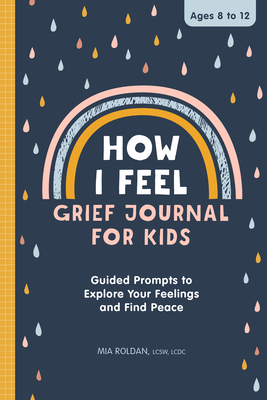 $12.99

Usually Ships in 1-5 Days
Description
---
Help kids ages 8 to 12 work through their feelings and begin healing after loss
It's normal for kids to have a lot of big feelings after they've lost someone or something important to them. This guided journal is filled with prompts and exercises that encourage kids to explore their emotions, find comfort and peace, and hold their memories close to their heart forever.
What sets this book apart from other grief books for children:
A focus on feelings—Kids will learn about the many emotions that can come with grief and find prompts that encourage them to write about whatever feelings they're experiencing.
Many ways to process loss—In addition to writing and drawing prompts, kids will discover simple activities and meditations to help support their healing.
An easy format—Kids can work through this journal in any order and at their own pace—every day, every week, or whatever feels right for them.
Give the child in your life the emotional tools to start healing from their loss with this top choice in grief books for kids.
About the Author
---
MIA ROLDEN, LCSW, LCDC, is a licensed clinical social worker and author. She has spent her entire professional career assisting adolescents, families, and adults in learning to process their grief and work through their emotions after loss. Find out more at miaroldanaustintherapy.com.
Praise For…
---
"Mia's journal offers a gentle invitation to children who are grieving to engage and explore their feelings and experiences. Divided into three simple yet thoughtful sections, the journal offers children a chance to identify and express their feelings, learn coping tools and find peace and hope within their life and grief experience. Especially helpful about this journal is the freedom a child has to select whatever page or activity they feel drawn to that particular day." —Maggie Cochran, LCSW, Hospice Austin bereavement supervisor

"This incredible journal from Mia Roldan provides cross-cultural and age-appropriate activities that validate the natural feelings of grief and loss children experience. School-age children can use these gentle prompts to identify and reflect on their loss, to acknowledge and normalize their feelings associated with grieving, and to create a toolbox of activities that can be accomplished alone or with others to integrate loss into their young lives. Ms. Roldan lets children know that inner peace is truly possible!" —Dede Sparks, LMSW, assistant dean for health affairs, The University of Texas Steve Hicks School of Social Work Hospice & palliative care social worker