Deep as the Sky, Red as the Sea (Hardcover)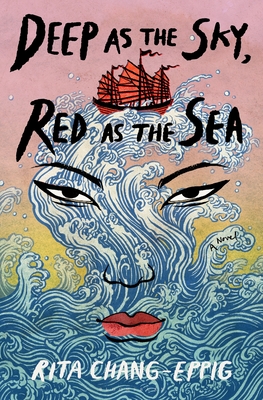 Staff Reviews
---
Jo's June 2023 pick
There are few things I love as much as a good pirate story. Deep as the Sky, Red as the Sea is both a fantastic pirate story and a contemplative exploration of gender and trauma.
Inspired by the real life of legendary pirate queen, Shek Yeung, Rita Chang-Eppig's novel follows a young woman as she carves out a life for herself in 19th century China. From her early life on the floating brothels known as flower boats, to her role as the wife of a powerful pirate - Shek Yeung has to navigate life as a woman and a mother in a world where she is given limited options and where every choice she makes could have deadly consequences. Written in beautiful prose, this debut introduces an exciting new voice in historical fiction. I look forward to seeing more from Rita Chang-Eppig.
Listen to Jo and Ryan's interview with Rita Chang-Eppig here or wherever you get your podcasts: https://www.gibsonsbookstore.com/episode-107-rita-chang-eppig-interview
— From
Jo
June 2023 Indie Next List
---
"A beautiful, meditative, fascinating read. This is exquisitely written and while I knew that the subject would be fascinating, I was still unprepared. Perfect for fans of Four Treasures of the Sky."
— Cari Quartuccio, Shakespeare & Co., New York, NY
Description
---
For readers of Outlawed, Piranesi, and The Night Tiger, a dazzling historical novel about a legendary Chinese pirate queen, her fight to save her fleet from the forces allied against them, and the dangerous price of power.

As Recommended By
The TODAY Show * Washington Post * Goodreads * LitHub * Real Simple * Time * Popsugar * HuffPost * Los Angeles Times * Ms. Magazine * Book Riot * Elle.com * The Rumpus * Tor.com * Polygon * Debutiful * Electric Lit * Shondaland *

When Shek Yeung sees a Portuguese sailor slay her husband, a feared pirate, she knows she must act swiftly or die. Instead of mourning, Shek Yeung launches a new plan: immediately marrying her husband's second-in-command, and agreeing to bear him a son and heir, in order to retain power over her half of the fleet.

But as Shek Yeung vies for control over the army she knows she was born to lead, larger threats loom. The Chinese Emperor has charged a brutal, crafty nobleman with ridding the South China Seas of pirates, and the Europeans—tired of losing ships, men, and money to Shek Yeung's alliance—have new plans for the area. Even worse, Shek Yeung's cutthroat retributions create problems all their own. As Shek Yeung navigates new motherhood and the crises of leadership, she must decide how long she is willing to fight, and at what price, or risk losing her fleet, her new family, and even her life.

A book of salt and grit, blood and sweat, Deep as the Sky, Red as the Sea is an unmissable portrait of a woman who leads with the courage and ruthlessness of our darkest and most beloved heroes.
About the Author
---
Rita Chang-Eppig received her MFA from NYU. Her stories have appeared in McSweeney's Quarterly Concern, Conjunctions, Clarkesworld, The Santa Monica Review, The Rumpus, Virginia Quarterly Review, The Best American Short Stories 2021 (selected by Jesmyn Ward), and elsewhere. She has received fellowships from the Rona Jaffe Foundation/Vermont Studio Center, the Writers Grotto, the Bread Loaf Writers' Conference, and the Martha Heasley Cox Center for Steinbeck Studies at San Jose State University. She lives in California.
Praise For…
---
"In this swashbuckling saga, the Chinese Emperor, colonial European forces and even the mythological sea goddess Ma-Zou attempt to thwart Shek Yeung's plans at every turn, and she must battle fiercely for the world she believes in." —The Washington Post

"For anyone who loves pirates, historical fiction, and a strong heroine force . . . Turn to this book for swashbuckling adventures written with immersive, lyrical prose." - Qian Julie Wang, the TODAY Show

"A captivating portrait of legendary 19th-century pirate queen Shek Yeung . . . [A] lyrically written high-seas adventure." - Time

"The strength of Chang-Eppig's book is the extensive research that colors it. Disparate historical events and details are woven into a continuous backdrop. The novel offers the pleasures of learning about the siege of Fort Zeelandia, coral houses in Taiwan and stilt houses in the Philippines, differences in junk construction, early grenades and smoke bombs, and the sea goddess Matsu." - New York Times Book Review

"A rollicking 19th-century adventure on the South China Sea . . . The prose is lyrical and the plot is clever and serpentine, exploring questions of power, violence, gender, and fate. This is not to be missed." —Publishers Weekly, starred review

"Rita Chang-Eppig's sharp, gritty first novel, Deep as the Sky, Red as the Sea, takes readers on a high-seas adventure…This fascinating portrait of a woman determined to survive no matter the challenge will captivate readers' imaginations…Book clubs and solo readers alike should find much food for thought in this blend of high-stakes action and a complex character sketch of a fierce and wily leader." —Shelf Awareness

"A lyrical tale of a legendary pirate queen and her struggle to maintain power in the South China Seas. Brimming with poetic language and vivid depictions of life in all its facets, Deep as the Sky, Red as the Sea is a full-blooded, moving account of a woman's conflict with her past, present and future as she fights to keep one of the only things that she has left—her fleet." - Booktrib

"This heart-pounding high-seas adventure is also the moving story of a girl with no options who finds a way to survive, and the costs and consequences of that survival. Shek Yeung - a pirate queen, a mother, a ruthless killer and a loyal friend - is an unforgettable heroine whose journey will keep readers hooked from beginning to end." —Anna North, New York Times bestselling author of OUTLAWED

"A powerful, gripping and vivid portrayal of one of history's most fascinating women, and the knife edge she had to walk to survive." —Samantha Shannon, New York Times bestselling author of THE PRIORY OF THE ORANGE TREE and A DAY OF FALLEN NIGHT

"With prose as rich and elegant as it is fierce, Deep as the Sky, Red as the Sea, paints a complex portrait of one of history's most powerful women... A gorgeous vivid adventure." —Erika Swyler, bestselling author of THE BOOK OF SPECULATION and LIGHT FROM OTHER STARS

"A riveting, heart-pounding exploration of ambition, grit, and ... the fiery, magnetic Shek Yeung." —Kirstin Chen, New York Times bestselling author of COUNTERFEIT

"Suspenseful... Y'all had me at the words 'pirate queen.'" —R.O. Kwon, Electric Literature's 62 Books By Women of Color to Read in 2023

"Rita Chang Eppig is such a daring, thrilling writer. DEEP AS THE SKY, RED AS THE SEA sets a whole new bar for words like swashbuckling and adventure, recasting their assumptions while giving us all the big moments: Seafaring battles, swords and family intrigue, tales of love and revenge. It's all here. And in Shek Yeung, Chang-Eppig has given us a heroine for the ages. This is the start of a big career." —John Freeman, author of How to Read a Novelist

"It is the year of lady pirates and outlaws, friends! You'll get no complaints from me, and with Rita Chang-Eppig's debut, it's definitely *Lizzo Voice* Bad Bitch O'Clock… It's refreshing to see not only a mixed-gender crew but also a woman with a complicated relationship to motherhood, her intended place in the world, and her ambitions. Deep as the Sky, Red as the Sea is a non-stop adventure with danger at every turn, and Shek Yeung is forced to make decisions to ensure her survival. But she remains ruthless throughout, and her adventures will make you want to take up the sword and learn to sail." —Tor.com

"A pirate queen's adventures in the South China Seas, based on the life of an actual early 19th-century icon--I'm sold a hundred times over on this debut." —Julia Fine, author of THE UPSTAIRS HOUSE in Chicago Review of Books' 17 Most Anticipated Books of 2023

"A refreshingly vivid adventure tale, perfect for long days by the ocean's edge." —Elle.com, The 39 Best New Books to Read in Summer 2023

"A pirate queen whose husband is murdered? An entire empire at stake? This is the ambitious, suspenseful and kaleidoscopic adventure we all need this summer! In Chang-Eppig's capable hands, this is epic storytelling." —Ms. Magazine, May 2023 Reads for the Rest of Us

"A brutal and joyful celebration of an often-overlooked historical figure." —Shondaland, Best Books of Summer 2023

"Epic yet intimate, Deep as the Sky, Red as the Sea brings to life the pirate queen Shek Yeung. Rita Chang-Eppig charts the journey of a brilliant and brave heroine who fights for the survival of her fleet-and her family's-against a fascinating historical backdrop. A stunning debut." —Vanessa Hua, bestselling author of FORBIDDEN CITY

"A dazzling feat of storytelling." —Clare Beams, author of THE ILLNESS LESSON

"Deep as the Sky, Red as the Sea is a riveting and moving story of a real woman and legend. The woman at the center of this struggles with what sensitive and adventurous women have struggled with always: the choice between love and leadership; a life focused on family and friends or a life that looks outward to politics and society. This is richly researched historical fiction with lush mythology and all the excitement and intrigue of action and suspense." —Tiphanie Yanique, award-winning author of LAND OF LOVE AND DROWNING and MONSTER IN THE MIDDLE

"Deep as the Sky, Red as the Sea is a stunning novel filled with adventure, intrigue, and stirring contemplations of what it means to endure in a world of scarcity and violence. Chang-Eppig combines the scope and lyricism of Gabriel García Márquez with the propulsive storytelling of Susanna Clarke. This is an epic novel with the intimacy of a portrait, a literary adventure not to be missed." —Seth Fried, author of THE MUNICIPALISTS

"Deep as the Sky, Red as the Sea is a gripping, powerful portrait of a woman on the high seas who is as ferocious as she is human, determined to survive. Brimming with adventure and intrigue, passion and prophecy, fierce battles and moving moments of grace, this novel captures us on a pirate ship and does not let go until long after we've turned the radiant final page." —Carolina De Robertis, award-winning author of CANTORAS

"A hold-onto-your-seat ode to an unforgettable woman." —Real Simple

"A clever story that explores gender roles, power and even love." —Huffington Post

"Chang-Eppig's debut novel is a thriller from the first page—reading this book is like watching a pirate battle come to life! The perfect blend of action and historical fiction, Deep as the Sky, Red as the Sea is a thriller from the very first page! Rita Chang-Eppig brings Chinese pirate Shek Yeung to life in such vivid detail that you can't help but feel like you're fighting alongside this ruthless warrior. The story is so gripping you won't want it to stop, but you'll be dying to know how it ends. A must-read for anyone who loves a historical thriller!" - Southern Bookseller Review

"This fascinating portrait of a woman determined to survive no matter the challenge will captivate readers' imaginations. Book clubs and solo readers alike should find much food for thought in this blend of high-stakes action and a complex character sketch of a fierce and wily leader." - Shelf Awareness for Readers

"Densely rich and rewarding . . . Shek Yeung's story also holds terrific heft and relevance for contemporary women, as the pirate queen must figure out how best to balance her various roles and responsibilities . . . [A] remarkable debut." - Bookreporter