Late Autumn, Raking (Paperback)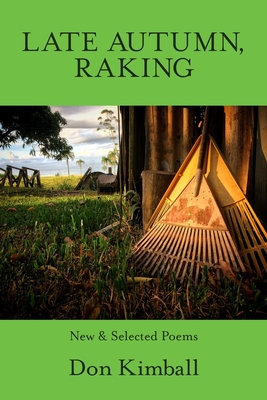 Description
---
Conversational, neighborly, deceptively fireworks-free, Don Kimball's fourth poetry collection achieves miracles of communication by opening doors we seldom even notice in the apparently blank walls of daily experience. Behind those doors, married lovers convey their lives as they fold laundry; the death of beloved "unremarkable" people is noted with just enough detail, and rendered as significant as universal; a park ranger casts new light on crucial issues by tending to his "tiny migrants"; unexpected discoveries-and self-discoveries-follow Kimball's encounter with work by fellow poets, as with curious strangers, an observant relative, nature, animals, memory, and dreams either absurdly humorous or troubling-or both.

- Rhina P. Espaillat, The Field


My favorite aspect of Don Kimball's lyrical, whimsical, and philosophical poems is the many turns of phrase that delight the reader. He describes a raindrop as "a diamond stud on a green leaf." He's also a master of witty personification. "The moon's full of herself." He says "my brain abandoned my right arm" during a transient ischemic attack. He complains that "Sleep stays up for the late-night shows."


The restaurant waiter who "stops at your table" when it's "time to settle" doesn't "take checks. No credit cards accepted". He turns out to be a chilling metaphor for Death, which follows life's rich meal. Or take "Mirror, Mirror," it's not until the last line that we learn what a man really sees reflected in the mirror: "my vis- -vis / opposite me, // seeing eye / to eye; // complementary / she and I." It's Kimball's surprises that are his finest gift.


- Deborah Warren, Strange to Say: Etymology as Serious Entertainment


Don Kimball focuses on writing of his world and what he knows well, and brings to this a sensitivity and craft that turns experience into poetry. Much of Late Autumn, Raking deals with the small things in life - the title poem itself; a stone skipped across a pond; the death of a barn ("both ends leaning inward/like folding hands/collapsing") - but in a language so pared down that its poetry emerges from what is not said as much as what remains. In another notable poem, "Tall Woman Walking Past a Busker," precise language and subtle off-rhymes weave a story of real depth in less than twenty words. Kimball is an entertaining storyteller with an ear attuned to power of each word.


- Michael Cantor, Furusato