Fourth Wing (The Empyrean #1) (Hardcover)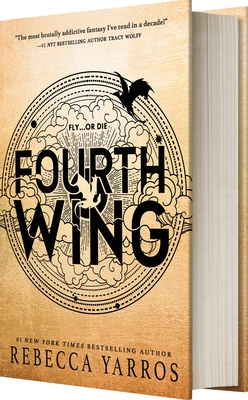 Other Books in Series
This is book number 1 in the The Empyrean series.
Staff Reviews
---
Elisabeth's June 2023 pick (1 of 2)
You might have heard about this book as a scorching romance, but I (the Gibson's Queen of Steam) disagree. That's not to say there isn't a toe-curling slow-burn romance with delicious TENSION woven throughout the book, but it's maybe 5% of the book. This book is about a war-college for dragon-riders, where training is deadly, and your fellow students and soldiers are deadlier. There aren't enough dragons for everybody, so don't put it past your classmates to try to improve their chances... permanently. The rest is political intrigue and maneuvering, and fighting to survive, and grumpy middle-aged dragons who want you to get off their lawn. It's about betrayal, and trust, and knife-fighting. It's about weakness, and how the weak find their strengths. It's about strength, and how the strong will do terrible things to preserve their dominance. It's about lifting people up versus pushing opponents down. It's about doing the right thing, and overcoming biases and prejudices. It's about lies and regret. It reads like extremely well written and edited fanfiction, the kind that grabs you by the throat and then suddenly it's 2am and you're 12 links deep in AO3.
Fantasy avoidants, fear not! Yes, it has dragons and a bit of magic, but it doesn't read like other high fantasy you might have read. The world building is simple and straightforward; it feels very much like our world, just a step to the left (they haven't mentioned electricity, but neither is there a complicated new social system, nor has the author come up with an elaborately syllable'd new word for "fork"). The high stakes are established right in the first chapter, and you spend the whole book worrying about which named character is going to bite the dust next.
Disability rep (the main character has Ehlers-Danlos, although they don't call it that; and deaf characters). Steam Level 5 for exquisite tension and on-the-page scenes (which are brief and few).
There are many dragons, some of which are absolute jerks.
— From
Elisabeth
Heather's July 2023 pick
If you can get your hands on Fourth Wing, take the chance, and read it. It's a fun, fast-paced, slow burn action/romance with surly dragons. It's a dark academia setting where the prize, if you survive until graduation, is flying with your very own bonded dragon. That is, if the dragon also doesn't kill you. Think Divergent meets Eragon and then let the story get a bit more, hot mature. Then when you're done, go order the sequel, Iron Flame. You'll thank me later.
— From
Heather
Cheri's July 2023 pick
I had several colleagues recommend this book with vehemence. So, I jumped right in. How could I not if "everyone" was reading it. Well, Fourth Wing lived up to the hype. I adore a good fantasy read, but this was great.
There are dragons, there are gryphons, there is magic. There is strife and heartache, and life and death. I should mention the love triangle as well, but did I mention dragons?
Violet, our heroine outshines many that I have read about lately. I loved her spunk and persistence, and sass. Then there is Dain, our quintessential hero, and Xaden- who just isn't. The cast of characters and dragons keep the intensity as well as the humor.
This is a book I will be recommending vehemently as well.

— From
Cheri
Ryan's July 2023 pick (2 of 2)
I don't often cave to BookTok hype, but when bookseller after bookseller told me they'd read this book and loved it, I knew I had to read it for myself. I almost regret to inform you that this book absolutely lives up to the hype. It's awesome.
Strong Female Character? Check. Disability Rep? Check. Dragons? Check. Enemies to Lovers Subplot? Check. Revenge? Check. Family Tension? Check. Sacred Bonds? Check. Murder? Check. Dark Academia? Check.
All of that, plus it is compulsively readable. A total "devour it in one sitting and then yell about the ending and immediately preorder the sequel" kind of book.
This is perfect for folks who want to dip a toe into the Fantasy genre because they like dragons, but they're intimidated by giants like Tolkien and Martin. Fourth Wing is widely accessible, settling perfectly into that "New Adult" genre between Young Adult and Adult.
(Plus, not only are there dragons, but the dragons can talk to their riders and they're sometimes grumpy, sometimes funny, sometimes adorable, and all the time epic…I would absolutely lay down my life for Andarna).
I really, truly loved Fourth Wing, and I'm here to tell you that in this case…you should listen to the hype.
— From
Ryan
Fal's July 2023 pick (2 of 2)
Fourth Wing follows twenty-year-old Violet Sorrengail in her (forced) plight in becoming a dragon rider. Having spent most of her life preparing to become a scribe, Violet is wholly unprepared for the dangers thrust her way, and she knows it. Her only goal is to stay alive, but with more than one person after her life, that might be the most daunting task of all. And that's including the fact she has to convince a dragon to choose her as their rider, and not their meal.
Featuring a strong female voice full of snark and wit, a love interest that'll rival the infamous Rhysand, a grumpy old man dragon, and friends that are more family than not, this book will have you laughing out loud, sobbing, screaming, gasping, and desperately hungering for more.
— From
Fal
Dez's July 2023 pick (2 of 2)
I've been excited by the rise of new adult fantasy romances sweeping bookshelves and this book is taking the reading world by storm.
If you're a fan of brutal war games, smart-talking dragons, tension and unstoppable women with knives, Fourth Wing is the book for you. Please read it, I can't recommend it enough and I promise you won't be disappointed.
Violet Sorrengail was supposed to join the Scribe Quadrant. Instead, her mother, General Sorrengail of the Navarre army, forces her to join the Riders Quadrant. With more candidates than there are dragons to ride, Violet needs to keep her wits about her. As the competition intensifies, and the selection process becomes increasingly more brutal, only one thing is certain: in the Basgiath War College, you either graduate…or die.
Dear Rebecca Yarros: You have broken my heart completely, but you have also healed it in less than 500 pages. I needed this book more than I could have ever thought. Violet, like Rebecca Yarros herself, has Ehlers-Danlos syndrome: a degenerative condition which affects connective tissues in the human body. Underestimated by everyone she encounters, including her own mother and supposed best friend, Violet proves time and time again that she's not to be messed with—that she has what it takes to survive. Violet didn't have to become physically the strongest person in the Riders Quadrant to thrive, and following her as she figured out how her own gifts could help her survive was as inspiring as it was exciting. Though I do not have EDS, I am disabled/live with chronic pain and I see myself in Violet. I can see myself in her when she pushes through the pain, when she keeps fighting even though everything is against her, and when she knows she must get stronger to even be on the same level as everyone else. She has to learn the hard way who is really going to help her fly or who will allow her to wither and die. The disability representation in this book was just the icing on the cake, in making this my all-time favorite book. With dragons, tension, enemies to lovers, fantasy, magical elements, LGBTQ+ characters, academic setting, and beautiful world building, this book somehow pulled me out of a reading slump while simultaneously putting me right back in.
The sequel is scheduled to be released on November 7th, and honestly, it can't come fast enough.
— From
Dez
Description
---
An Instant New York Times Bestseller
A Goodreads Most Anticipated Book

"Suspenseful, sexy, and with incredibly entertaining storytelling, the first in Yarros' Empyrean series will delight fans of romantic, adventure-filled fantasy." —Booklist, starred review

"Fourth Wing will have your heart pounding from beginning to end... A fantasy like you've never read before." ―#1 New York Times bestselling author Jennifer L. Armentrout


Enter the brutal and elite world of a war college for dragon riders from New York Times bestselling author Rebecca Yarros

Twenty-year-old Violet Sorrengail was supposed to enter the Scribe Quadrant, living a quiet life among books and history. Now, the commanding general—also known as her tough-as-talons mother—has ordered Violet to join the hundreds of candidates striving to become the elite of Navarre: dragon riders.

But when you're smaller than everyone else and your body is brittle, death is only a heartbeat away...because dragons don't bond to "fragile" humans. They incinerate them.

With fewer dragons willing to bond than cadets, most would kill Violet to better their own chances of success. The rest would kill her just for being her mother's daughter—like Xaden Riorson, the most powerful and ruthless wingleader in the Riders Quadrant.

She'll need every edge her wits can give her just to see the next sunrise.

Yet, with every day that passes, the war outside grows more deadly, the kingdom's protective wards are failing, and the death toll continues to rise. Even worse, Violet begins to suspect leadership is hiding a terrible secret.

Friends, enemies, lovers. Everyone at Basgiath War College has an agenda—because once you enter, there are only two ways out: graduate or die.

The Empyrean series is best enjoyed in order.
Reading Order:
Book #1 Fourth Wing
Book #2 Iron Flame
About the Author
---
Rebecca Yarros is the New York Times bestselling author of more than fifteen novels, with multiple starred Publishers Weekly reviews and a Kirkus Best Book of the Year. A second-generation army brat, Rebecca loves military heroes and has been blissfully married to hers for more than twenty years. She's the mother of six children, and she and her family live in Colorado with their stubborn English bulldogs, two feisty chinchillas, and a cat named Artemis, who rules them all.

Having fostered, then adopted their youngest daughter, Rebecca is passionate about helping children in the foster system through her nonprofit, One October, which she cofounded with her husband in 2019. To learn more about their mission, visit oneoctober.org.

To catch up on Rebecca's latest releases and upcoming novels, visit RebeccaYarros.com.
Praise For…
---
"A fantasy like you've never read before." —Jennifer L. Armentrout, #1 New York Times bestselling author

"Smart-ass. Bad-ass. Kick-ass. One helluva ride!" —Tracy Wolff, #1 New York Times bestselling author

"Utterly addictive and completely unputdownable. I devoured every page and fell hopelessly, desperately in love with these characters and the incredible world Rebecca Yarros has so carefully, lovingly crafted. Hands down the best book hangover I've ever experienced. I can't wait for more!" —Helena Hunting, New York Times bestselling author

"An exhilarating dragon ride of a fantasy! Brutal, fast-paced, compelling, and simmering with romantic tension that left me on the edge of my seat. Fourth Wing is everything I want in a book and more. Phenomenal! Move this one to the top of your TBR." —Samantha Young, New York Times and USA Today bestselling author

"Buckle up because with nonstop action, sizzling romance, and the BEST DRAGONS EVER, you will not be able to put down Fourth Wing until the last page is turned. It's a wild, sexy, roller coaster of a ride." —Mary E. Pearson, New York Times bestselling author

"Dragons and war, passion and power…Fourth Wing is dazzling. Rebecca Yarros has created a world as compelling as it is deadly, and I can't wait to see where she takes it next." —Nalini Singh, New York Times bestselling author

"This book should come with a warning label, because once you start it, you won't stop until you reach the final page. Forbidden romance that simmers off the page; relentless, heart-stopping action; and a delicious, morally gray hero—this is the book I've been waiting for!" —Geneva Lee, New York Times bestselling author

"Fourth Wing is an unforgettable adventure from cover to cover. I cheered, laughed, grinned, and refused to put it down. This expertly crafted romantic fantasy is sure to launch the beginning of a brand-new insatiable fandom!" —Lexi Ryan, #1 New York Times bestselling author

"Kapow, what a story! In Fourth Wing, Rebecca Yarros gives you gutsy young heroines and sexy bad boys living in a world where no one—not even the mightiest dragon—is safe. This is some sharp, bold, and delicious storytelling!" —Rachel Howzell Hall, New York Times bestselling author

"House of the Dragon meets Divergent in this utterly thrilling, unputdownable new fantasy! Fourth Wing is full of scintillating adventure, soaring dragon flight, and slow-burn, enemies-to-lovers romance. Climb on and enjoy the ride!" —Amalie Howard, USA Today bestselling author

"As smoldering as it is spellbinding, Fourth Wing is a thrilling, dragon-filled delight!" —Cindi Madsen, USA Today bestselling author

"Rebecca Yarros's Fourth Wing kept me up at night whispering "one more chapter" until suddenly the sun was rising—and even then I still couldn't bring myself to stop. Utterly immersive, fiercely romantic, and unforgivably addictive, this book is a spectacular masterpiece and my new fantasy obsession." —Lynette Noni, Australia's #1 young adult fiction author

"An expertly woven tale in a riveting world of dragons, life-or-death competition, and betrayal, Rebecca Yarros hits all the high notes and delivers a thrilling new romantic fantasy that readers will devour." —K.A. Tucker, international bestselling author