Whose Prints? (Board book)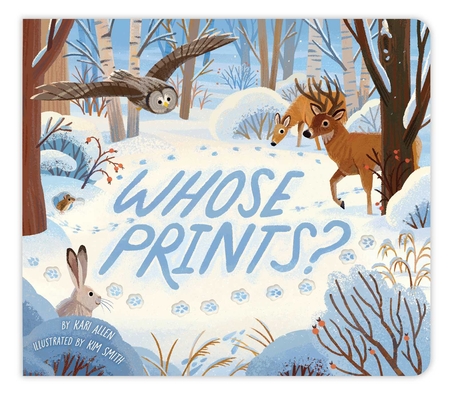 Description
---
Go on a snowy adventure through the woods and match animals to their tracks in this beautiful board book with die-cuts throughout!

Who tiptoed across the snow? Who scurried and skittered? Who slink-slink-slinked along? Little readers will love looking at different tracks in the snow and figuring out which animal made each one.
About the Author
---
Kari Allen grew up on a lake in New Hampshire with her sister and parents spending the summer swimming and eating blackberries. She went to a small school in central New Hampshire, so small that her graduating class had only seventeen students in it. Kari has always loved reading and writing and channeled that love into pursuing degrees in English and early childhood education, as well as a master's in the teaching of writing. She teaches second grade at the same independent school she went to and loves watching how literacy develops in children, how they connect to books and words and stories. Kari's worked with the National Writing Project in New Hampshire coordinating writing camps and facilitating and creating workshops and staff development for teachers. Find out more at KariAllenWrites.com.

Kim Smith is the New York Times bestselling illustrator of over thirty picture books, including her first authored and illustrated book, Boxitects. Other books she has illustrated include the Builder Brothers picture book series by Drew and Jonathan Scott; the PopClassics picture book adaptations of popular films including Back to the Future, Home Alone, and Elf; and the Ice Chips chapter book series by Roy and Kerry MacGregor. In addition to illustrating picture books, Kim has also worked on children's games, puzzles, animation, 3D displays, posters, and magazines. When she's not busy illustrating, Kim spends most of her time exploring and painting in the great outdoors. She lives in Calgary, Canada. Find out more at KimIllustration.com or on Instagram @KimIllustration or Twitter @KimDraws.